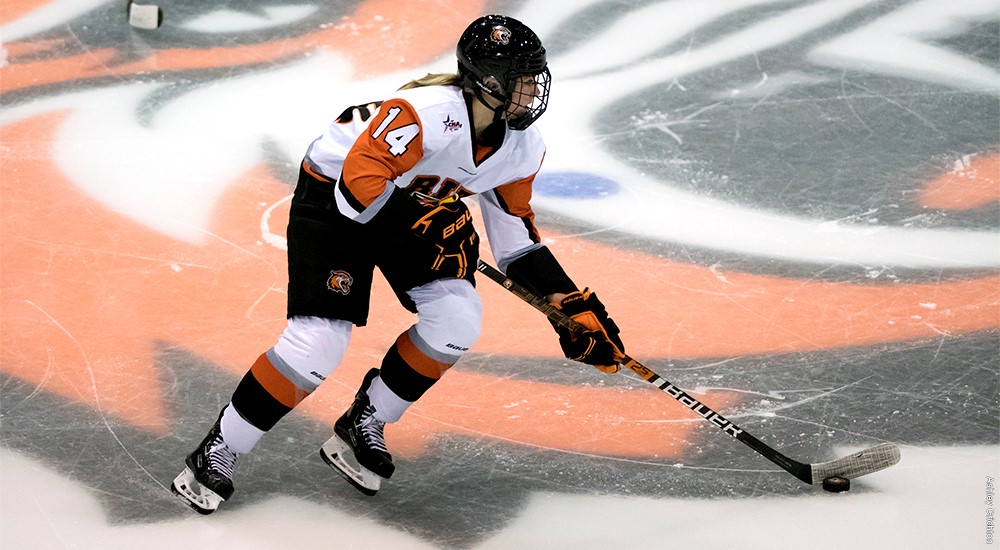 Courtesy of RITAthletics.com
ROCHESTER, NY – The RIT women's hockey team (1-0-1) skated to a 1-1 tie versus College of the Holy Cross (0-1-1) from the Gene Polisseni Center Saturday afternoon.
Ellie Larson (Hutchinson, MN/Hutchinson Tigers) tied the game with a first period power-play goal for the Tigers, while Terra Lanteigne (Hatchet Lake, Nova Scotia/Charles P. Allen) stopped 24 of 25 shots. Larson's goal was the first of her collegiate career.
It was a day of firsts for Holy Cross as well, as Carlie Magier tallied her first collegiate goal and goaltender Jada Brenon stopped 29 of 30 shots in her collegiate debut.
RIT held a 30-25 edge in shots. The Tigers were 1-for-5 on the power-play, while Holy Cross was 0-for-2.
"Overall, I think we battled hard on the weekend," said Bruce B. Bates Women's Hockey Coach Chad Davis. "I liked how we came back strong after getting behind early and was happy with our effort."
RIT held a 17-9 edge in shots after one period, with both teams scoring once.
The Crusaders struck first with 8:07 left in the opening period, as Magier went to the net and slammed home a rebound off a shot by Danielle Doherty for her first collegiate goal. Madison Farrand (Potomac, MD/Winston Churchill) put one off the crossbar moments before on a power-play for the Tigers.
RIT would ramp up the intensity after the Holy Cross goal eventually tie the game with 1:35 left in the period, as Larson ripped a one-timer off a feed from Cornine past Brenon for her first collegiate goal. Brittney Gout (Caledon, Ontario/Brampton Canadettes) also assisted on the power-play goal.
Logan Land (Turkey Point, Ontario/Holy Trinity Catholic) just missed making it 2-1 early in the second period, firing a shot from the slot off the rush off the crossbar and out. Moments later, Lanteigne was forced to make her best save of the afternoon, denying Rachel Moore on a point-blank chance.
Mallory Rushton (Amherst, Nova Scotia/New Hampton Prep) had a golden chance in the final minute of regulation, but a pass hopped over her stick at the side of the net.
Neither team could mount any offense in the overtime period.
Last night, Lanteigne stopped all 25 shots for the shutout, as RIT earned a 2-0 win over the Crusaders. Davis won his first game behind the bench for the Tigers as well.
RIT leads the all-time series between the two schools, 12-3-3.
The Tigers are right back in action next weekend, heading out on the road to take on St. Cloud State University. Friday's contest from St. Cloud, Minn. gets underway at 7 p.m. EST, while Saturday's contest starts at 4 p.m.