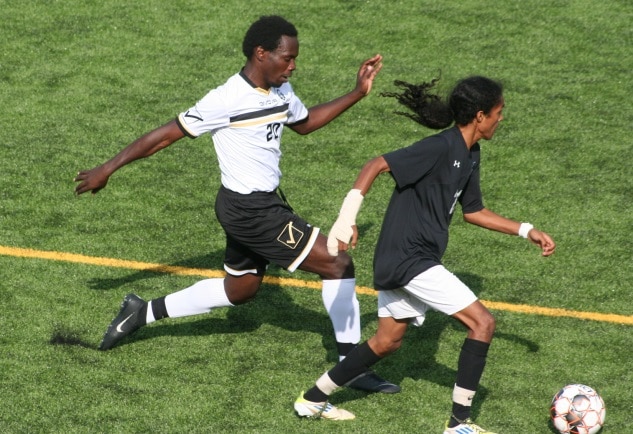 Courtesy of MCCTribunes.com
ROCHESTER – The MCC men's soccer team earned a key regional victory on Wednesday, as the Tribunes shut out Mercyhurst North East 4-0 on John L. DiMarco Field.
Isaiah Lee had a pair of goals while Jacques Aristhenes and Karlyl Simon also scored for the Tribunes, who improved to 3-2-0 and took command of the regional standings. Monroe will head to Pennsylvania to take on the Saints (2-5-2) in late October in the second half of the home-and-home series to determine the regional champ.
Lee got the Tribunes on the board in the 10th minute, as he took a through pass from Cameron Welling, split a pair of Mercyhurst defenders, and scored to make it 1-0.
Aristhenes doubled the lead in the 29th minute.  After a Saint foul just outside the box, the freshman defender sent a perfectly-placed direct kick into the back of the net for a two-goal lead.
Persistence paid off on Monroe's third goal. Eric Longhorn and Welling had shot attempts up close that were turned away by the Saint keeper. But Simon cashed in on the third opportunity to make it 3-0.
Lee completed the scoring in the 70th minute, with Anthony Short assisting on the play.
MCC held a 21-5 advantage in total shots. The Tribune defense did not allow a Mercyhurst shot on goal, leaving keeper Kyle Bimek with the easy shutout.