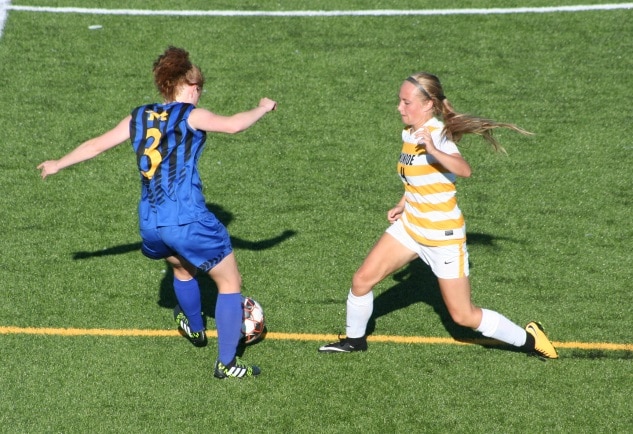 Courtesy of MCCTribunes.com
ROCHESTER – The Monroe College Mustangs scored four consecutive goals to start the second half, breaking open a tight game en route to a 6-3 win over Monroe Community College in a battle of NJCAA Division I women's soccer powers.
Maria Santin scored three of the goals in the final 45 minutes as the Mustangs pulled away. Sixth-ranked Monroe College improves to 5-0-0, while the 10th-ranked Tribunes fall to 5-2-0.
The Mustangs got on the board first with a score in the 10th minute. The Tribunes got it back in the 13th, as Arianna Green sent a long free kick over the Mustang goalie's head to tie it at 1.
Monroe College reclaimed the lead in the 35th minute, but the Tribunes once again had an answer. Thenia Zervas sent a nifty pass to Roosa Ariyo, who found the back of the net to tie it at 2 heading to the locker room.
That's when the Mustangs took over. Santin got it started in the 48th minute to make it 3-2. Juliana Pires then converted a penalty kick before Santin scored twice more to open it up.
Ariyo headed home a beautiful entry ball from Efi Brame in the closing minutes to close the scoring.