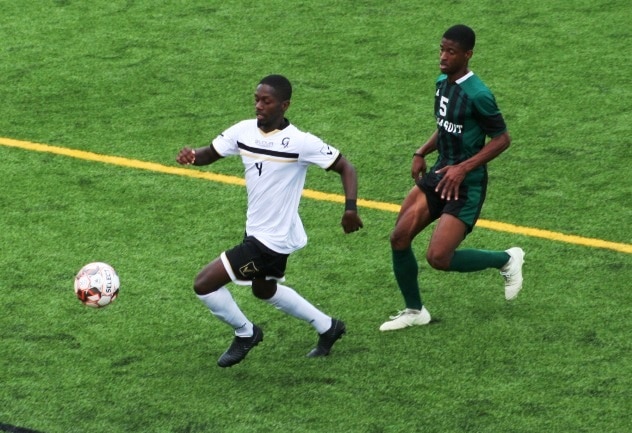 Courtesy of MCCTribunes.com
ROCHESTER – Massasoit Community College tallied two goals in a span of just over four minutes in the second half, then withstood a late Monroe rally to defeat the Tribunes 2-1 in a men's soccer matchup on DiMarco Field Saturday afternoon.
MCC (1-1) cut the lead in half on an Isaiah Lee score in the 87th minute. The Tribunes put together a last-ditch effort in the waning seconds, but an offsides call wiped out the attack to secure the win for the Warriors.
Monroe put early pressure on Massasoit and had a number of good opportunities in the game's first 10 minutes. But the Tribunes struggled to put it on frame, and the game entered the half tied at zero.
The Warriors broke through in the 50th minute, as Leon Zaffonato gathered a pass from Edmar Goncalves and scored to make it 1-0. Massasoit then upped the lead to two in the 54th minute after a Monroe foul in the box. Saidon Bamba put home the penalty kick.
MCC got on the board in the 87th minute. Sulemane Sey centered a ball to Lee in fron of the goal, and Lee fought off a defender and hit the back of the net to cut the lead to 2-1.
Monroe ended the match with a 27-10 edge in total shots, but only eight of MCC's attempts were on goal. The Tribunes also had a 12-3 advantage in corner kicks.
Nic Fischer made four saves in goal for MCC.