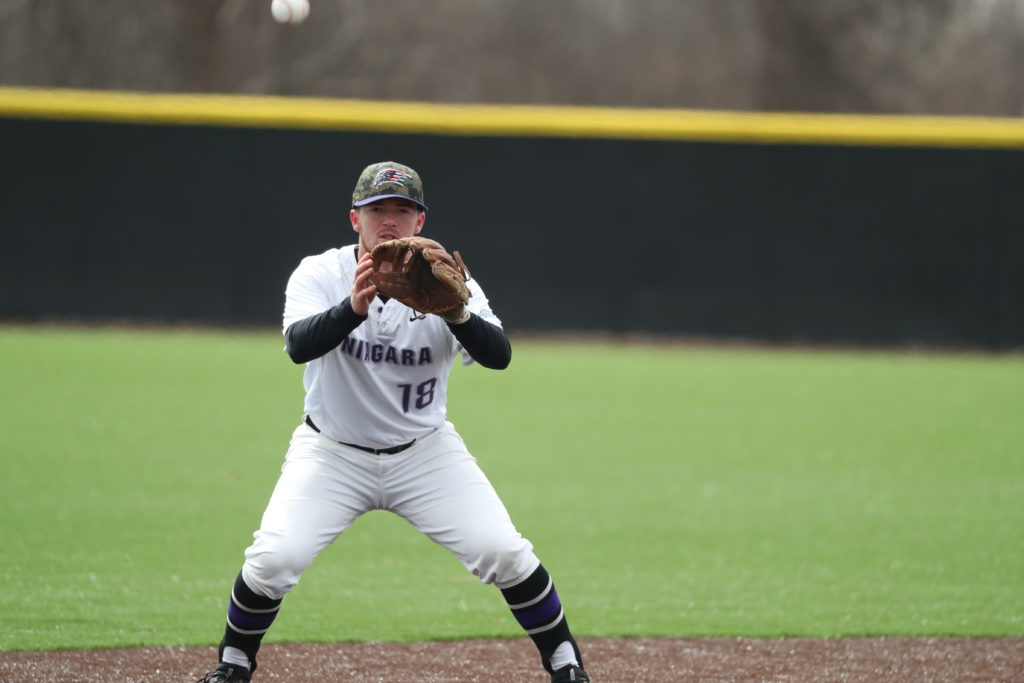 Courtesy of PurpleEagles.com
STATEN ISLAND, N.Y. – Junior shortstop Greg Cullen was named the Metro Atlantic Athletic Conference (MAAC) Baseball Player of the Year, announced at the annual awards banquet on Tuesday. Cullen was also named to the All-MAAC First Team. Senior third baseman Owen Dziados and redshirt-senior outfielder Trevor McCauley were both named to the All-MAAC Second Team.
Cullen is the fourth player in Niagara baseball history to be named MAAC Player of the Year and is the first since 2003 (Josh McCurdy). Cullen led the nation in hitting for nearly the entire season, finishing the 2018 regular season campaign batting a career-best .457. He finished the season first in the MAAC and second in the nation in on-base percentage (.549). Cullen led the Purple Eagles and the MAAC in hits with 79 and in runs scored with 50. He was third in the conference in slugging percentage (.636) and fourth in total bases (110). Cullen was a two-time MAAC Player of the Week selection and is a semifinalist for the Dick Howser Trophy, which is presented to a top collegiate baseball player by the National Collegiate Baseball Writers Association (NCBWA).
McCauley has been named to the All-MAAC Second Team for the second straight season. McCauley finished the season with 52 hits, 40 RBIs, 12 doubles and a career-high three homeruns. McCauley is tied for second in the MAAC in triples with three and tied for fifth in the MAAC in runs scored with 42. He finished the season batting .286.
This is the first time Dziados has earned All-MAAC honors. Dziados had the third-most RBIs in the MAAC with a career-high 50 and led the MAAC in sacrifice flies with eight. He finished the season batting a career-best .322 and with a career-high 55 hits. He also recorded 23 runs, nine doubles and three home runs.
In addition to announcing the All-MAAC teams and major award winners, the conference also announced the 2018 MAAC All-Academic Team. Niagara landed 15 on the All-Academic Team; sophomores Peter Battaglia, Matthew Brash, Alex MacKinnon, Joseph Tevlin and Matt Zaremba, juniors Brett Cook and Jordan Parranto, seniors Darian Blanks, Julian Gallup, Zachary Kolodziejski, Philippe Langlois, Wyatt Olson and Nigel Stearns and graduate students Cody Eckerson and Trevor McCauley.
To qualify for the MAAC All-Academic Team, a student-athlete must have completed two semesters at his/her institution and have a cumulative grade point average of 3.2 or higher.