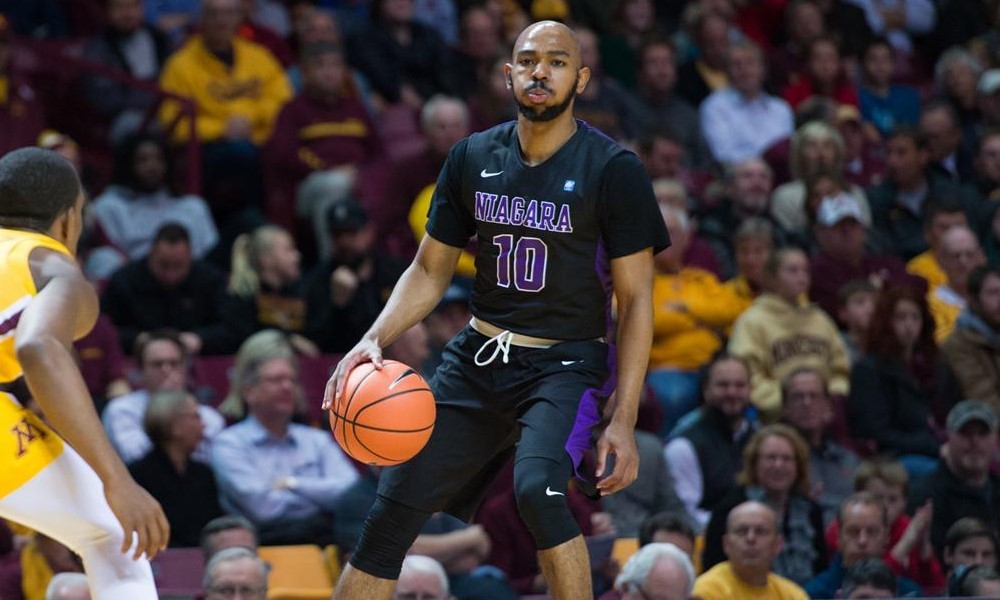 WEST LONG BRANCH, N.J. – Kahlil Dukes netted a career-high 37 points to lead all scorers as the Niagara Purple Eagles defeated the Monmouth Hawks, 96-91, on Sunday.
Dukes poured in 25 of his game-high 37 points in the second half to help erase a slim 44-42 halftime deficit. Dukes and backcourt teammate Matt Scott combined for ten points, with Scott scoring eight straight, as part of a 10-2 run to open the second half.
Kevin Larkin made a 3-pointer to increase Niagara's lead to 55-48, and his tip-in stopped a 6-0 run by the Hawks as NU led 57-54. Monmouth scored on its next possession to cut the Niagara lead to one point, but Dukes answered with a 3-pointer. The Purple Eagles gradually pushed their lead to 11 points after Marvin Prochet and Dukes connected on consecutive 3-pointers for a 78-67 lead with 9:55 remaining.  
Monmouth cut Niagara's lead to 82-78 with five minutes left, but NU responded with six straight points to take a double-digit lead with three minutes left to play. The Purple Eagles finished the game making six straight free throws to hold off a last-minute Monmouth push.
The first half featured five ties and six lead changes. Niagara used a 9-2 run to take its first lead of the game at 13-10. After three more lead changes, the Purple Eagles trailed 27-23 before surging into their largest lead of the first half at 34-29 with 6:33 remaining. Freshman Keleaf Tate scored 7 of his 9 first half points at the tail end of the 11-2 run. NU led Monmouth 40-36 with 2:40 remaining, but the Hawks closed the final two-plus minutes of the half on an 8-2 run for a 44-42 halftime lead.
Eagle's Eye On…
·         Kahlil Dukes set a career-high with 37 points on 11 of 17 shooting from the field, 5 of 8 from the 3-point line, and he went a perfect 10-for-10 at the free-throw line.
·         Matt Scott finished with 14 points and had three assists.
·         Kevin Larkin scored 14 points, tied a career-high with nine rebounds, and had three assists in his first career start.
·         Marvin Prochet had 13 points, six rebounds, and two blocks.
·         Keleaf Tate scored nine points and grabbed four boards in 11 minutes off the bench.
·         Greg King snagged a career high 11 rebounds to lead the team in 14 minutes.
Inside The Numbers
·         Niagara won its MAAC-best ninth road game for the program's most since the 2008-09 season.
·         The Purple Eagles swept Monmouth for the first time since the Hawks joined the conference five seasons ago.
·         Kahlil Dukes' 37 points are the most in the MAAC this season and most by a Purple Eagle since Antoine Mason's 38 points against Marist on March 6, 2014. Dukes is also the second MAAC player with multiple 30-point games.
·         Kahlil Dukes has made 27 straight free throws, which ties a program record set by Calvin Murphy during the 1969-70 season.
·         In five career meetings, Kahlil Dukes has averaged 23.8 points including four 20-point games. 
Up Next
·         The Purple Eagles return to the Gallagher Center to host the Quinnipiac Bobcats on Thursday, February 8 at 7 p.m.
·         The game will air on the Niagara Sports Network via AM 1400 WWWS and www.PurpleEagles.com/Watch.