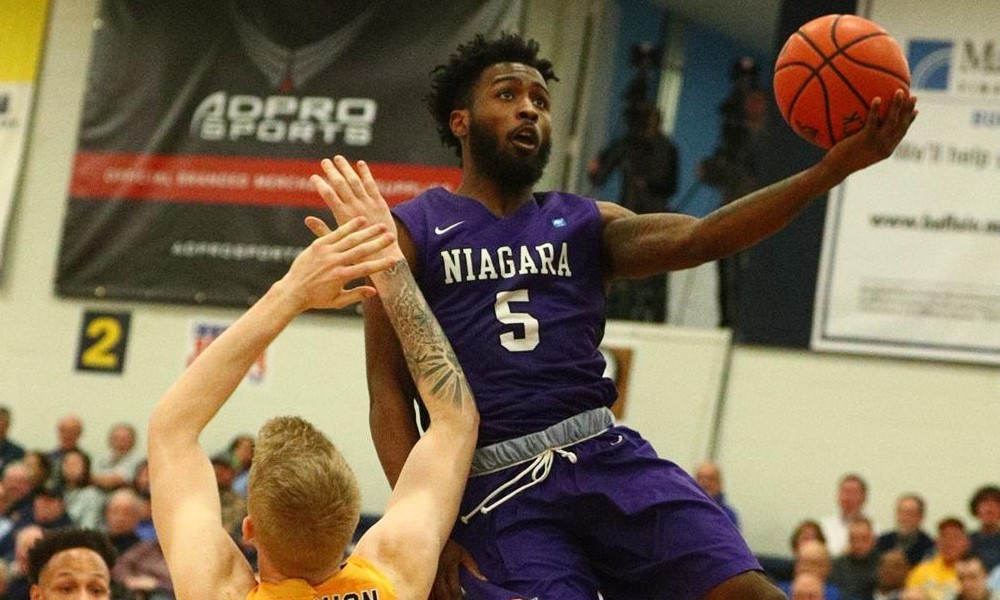 Courtesy of GoGriffs.com
BUFFALO, N.Y. — Niagara guard James Towns scored a career-high 31 points and the visiting Purple Eagles hit 15-of-26 shots from 3-point land en route to a 105-89 win over the Canisius Golden Griffins Saturday night in front of a sold-out Koessler Athletic Center. The win moves Niagara to 14-9 overall and 7-3 in MAAC play, while the Griffs saw their four-game winning streak snapped with the loss. Canisius is now 13-9 overall and 7-2 in conference play.
Towns was one of four Niagara players to post double-figures in the win, as seniors Kahlil Dukes and Matt Scott added 28 and 23 points, respectively. Junior Marvin Prochet added 12 points and four rebounds to the winning effort, as Niagara closed out the game shooting 52.5 percent from the field, 57.7 percent from 3-point land and 87.5 percent from the free-throw line.
Canisius senior Jermaine Crumpton matched a career-high with 32 points in the loss. He also grabbed a team-high six rebounds and dished out two assists in 36 minutes of action. Freshman Takal Molson was good for 18 points and five boards, while sophomore Isaiah Reese recorded his second career-double-double with 14 points and a game-high 10 assists. Junior Jonathan Sanks came off the bench and scored 10 points for the Blue and Gold, which shot 44.4 percent from the field for the game, but made just 9-of-25 attempts from 3-point range.
Canisius jumped out to an early 9-2 lead just 3:19 into the contest, with Crumpton accounting for seven of those nine points. A lay-up by Reese with 12:54 left before halftime gave the home team a 15-14 lead, but Niagara broke the game open moments later, using a 15-4 run over the span of 3:05 to take a 29-19 lead with 8:24 left in the opening stanza. In that run, Dukes hit a pair of 3-pointers, and the run was capped by a dunk from Greg Kuakmensah off a pass from Towns. Niagara's first half lead ballooned to as many as 20 points as the Griffs went the final 9:30 of the session without a field goal, while Niagara shot 48.6 percent from the field, fueled by an 8-for-15 performance from behind the arc.
In the second half, Canisius got within 10 points at 73-63 with 6:57 left on the clock after Crumpton made one-of-two free-throws. But Towns put any Canisius comeback hopes to bed quickly, as he scored the game's next five points to push Niagara's margin to 78-63 with 5:48 remaining. In the game's final 5:09, Niagara, which leads the country in free-throw makes and free-throw attempts, went 20-for-20 from the charity stripe. The 105 points scored by the Purple Eagles are the most for a MAAC opponent in the Koessler Athletic Center.
Head Coach Reggie Witherspoon's Postgame Comments
"I thought Niagara did a great job tonight. They made a lot of shots, plain and simple. This game was moving too fast for us, and we were not prepared to play that way. Our defense has really improved over where it was last year, but they are the top scoring team in the league for a reason. We turned them over 18 times, and we scored 89 points, but they were coming at us full-steam ahead, even after our makes. When we were in the lead early, our energy level was good and we were playing our game. But as they started making shots, and started to push it at us, we became frustrated, and our energy level went down and we got frustrated. Then we took some shots out of frustration. Our response to them playing well wasn't at a level where it needs to be."
Game Notes
• This was the 182nd all-time meeting between the two schools, with Niagara leading the series 100-82.
• Niagara has now won three straight in the series, dating back to last season.
Canisius scored 64 points in the game's second half, the most points scored in a half by the Blue and Gold since Jan. 10, 1979 when the team had 63 points in a home win over Maine.
• The 32 points for Crumpton allowed him to extend his streak with double-digits in the scoring column to 18-straight games. It was the third game of his career with 30-or more points scored.
• Reese had three steals in the loss for Canisius, the 14th-straight game where he's recorded at least one steal.
• Freshman Scott Hitchon scored six points in his first career start. He was inserted in the starting line-up for senior Selvedin Planincic, who missed the game due to illness.
Up Next
Canisius will head back on the road next weekend for a pair of MAAC games, starting Friday, Feb. 2 at Marist. Tip-off in the McCann Arena in Poughkeepsie, N.Y., is set for 7 p.m., and the game will be broadcast live on ESPN3. The radio call will be available on Buffalo's WECK 1230-AM and 102.9-FM, GoGriffs.com and the TUNEIN app.