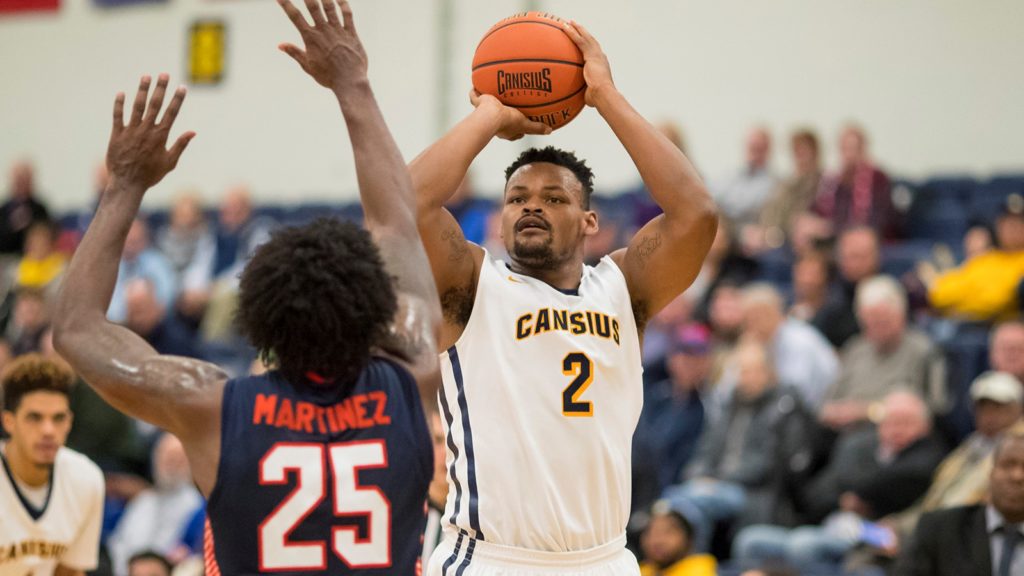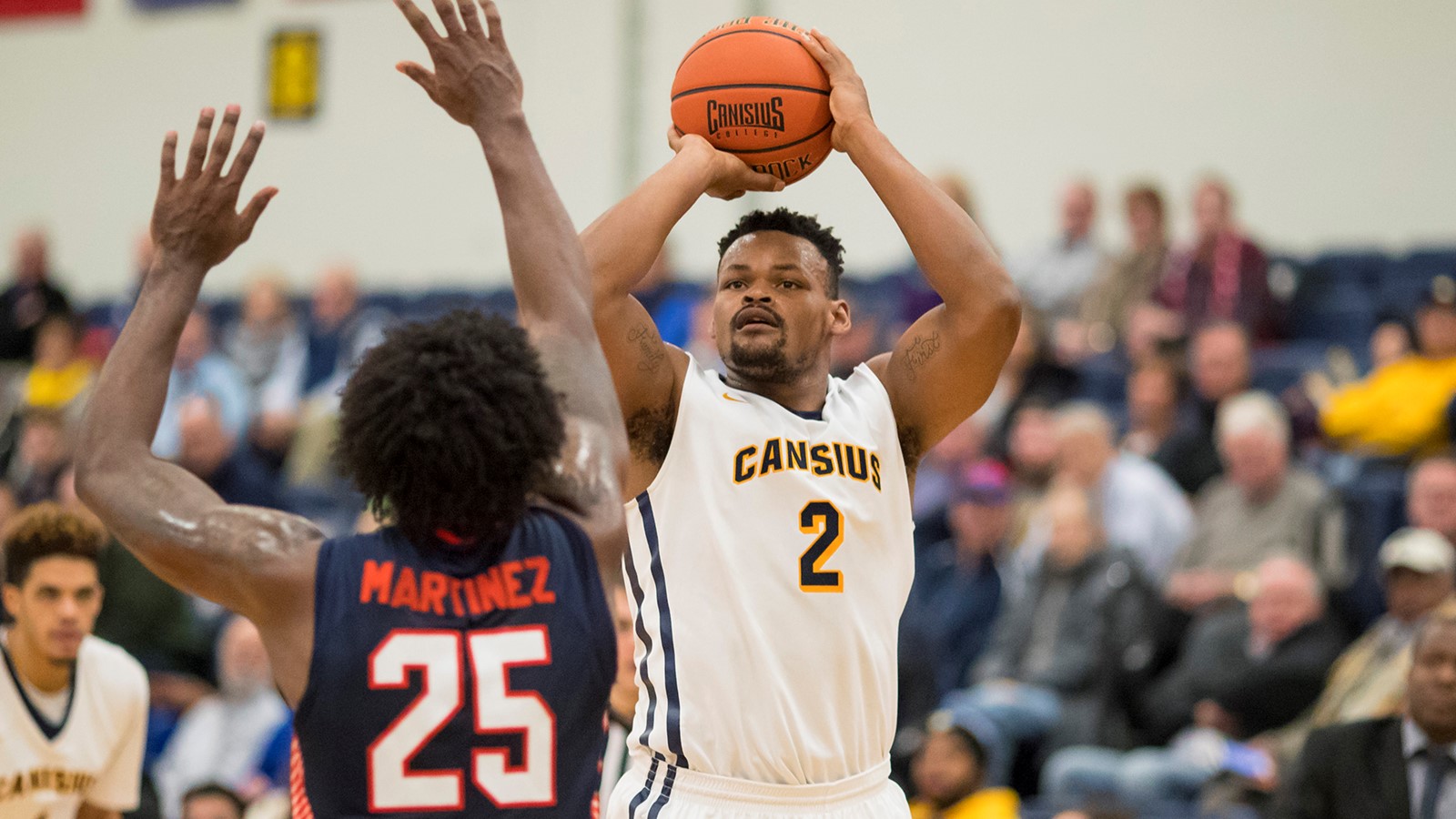 Courtesy of GoGriffs.com
NEW ROCHELLE, N.Y. – Five Canisius players scored in double-figures, led by sophomore Isaiah Reese and his game-high 21 points, and the Golden Griffins drained a season-high 15 3-pointers en route to an 84-82 win at Iona in the Hynes Center Sunday afternoon. The win, Canisius' ninth victory in its last 10 contests, improved the Blue and Gold to 13-8 overall and 7-1 in MAAC play, while the Gaels fell to 12-8 overall and 6-2 in conference action.
The road win for Canisius gives the team its first 7-1 start in MAAC play since the 1996-97 campaign. It also gives the Griffs their first regular-season sweep of Iona since the 2006-07 season.
Reese scored his 21 points after he went 8-for-17 from the field, 4-for-10 from 3-point land and 1-for-2 from the free-throw line. He also added six rebounds, five assists and three steals to his final stat line in 35 minutes of action. Senior Jermaine Crumpton scored 18 points and grabbed a team-high seven boards, while junior Jibreel Faulkner came off the bench to score a career-high 13 points in 17 minutes. Sophomore Malik Johnson was good for 12 points, eight assists and three steals and freshman Takal Molson scored 10 points to go with a career-high six assists for the Griffs, which ended the day with 25 assists against just six turnovers. Canisius shot 46.4 percent from the field, 42.9 percent from 3-point land and 83.3 percent from the free-throw line in the victory, while outscoring the Gaels 18-6 in points off turnovers.
Canisius used a 14-0 run midway through the first half to turn an 18-15 Iona lead into a 29-18 advantage for the Blue and Gold. In that run, Faulkner scored eight points, including two 3-point field goals. Iona made a late charge in the first half and trimmed the Griffs' lead to 44-42 at the half, and a 3-pointer by Iona guard Schadrac Casimir with 14:59 left to play put the Gaels up 59-58. That would be Iona's last lead of the day, however, as the Griffs scored the game's next six points in the span of 1:30, capped by a 15-foot jumper by Johnson, to put Canisius up 64-59 with 12:59 showing on the clock.
Iona made one last charge at Canisius, erasing a 10-point Canisius lead with an 8-0 run over the 1:53 to make the score 81-79 with 2:36 left to play. The Griffs' final field goal came with 1:51 left to play on an alley-oop dunk by Faulkner off a pass from Johnson, which made the score 83-79. The Gaels made three free-throws in the final 42 seconds of the game, but Canisius was able to seal the win after the Gaels were called for a flagrant foul with 1.3 seconds left, giving the Blue and Gold two shots and the ball, allowing them to run out the clock.
Iona's Deyshonne Much led the way for the Gaels with 18 points, while TK Edogi added 16 points and 10 rebounds. The Gaels shot 52.6 percent from the floor and 82.4 percent from the free-throw line, but went just 8-for-22 from 3-point land and turned the ball over 16 times.
Head Coach Reggie Witherspoon's Postgame Comments
"This was a really competitive, hard-fought college basketball game here today. I think this was a good win, and it certainly feels good [being 7-1 in the MAAC], but I think we do have a pretty long way to go. It's pretty early, but obviously we'd rather be in this situation than any other spot. What this win says is that we have something to build on. We keep talking about playing confident, and playing with poise down the stretch. I thought we really did a good job of that today, especially late when they made that run to get the game down to one possession."
Game Notes
• This was the 73rd meeting between the two schools, with Iona leading the series 40-33.
• Sunday's win in the Hynes Center is Canisius' first since Jan. 17, 2014.
• The 15 makes from 3-point land were two shy of matching the school record, set Dec. 9, 2012 at Marist.
• As a team, Canisius has 47 assists on its last 57-made field goals in its last two games.
Canisius is 9-2 this season when scoring 70-plus points in a game.
• Reese has now scored 20-or more points in three-straight games.
• Crumpton moved into 13th place on the school's career scoring list with his 18 points. He now has double-figures in the scoring column in 17-straight games.
• Faulkner's 13 points bested his previous career-high of 12, which he set last Sunday in the home win over Monmouth.
• Johnson was good for 15 assists against one turnover for the weekend in games at Manhattan and Iona.
Up Next
Canisius will return to action Saturday, Jan. 27, when the team plays host to long-time rival Niagara in the Koessler Athletic Center. Game time is set for 7 p.m., and the 182nd meeting in the series will be broadcast live on ESPN3. The radio call will be available on Buffalo's WECK 1230-AM and 102.9-FM, GoGriffs.com and the TUNEIN app.