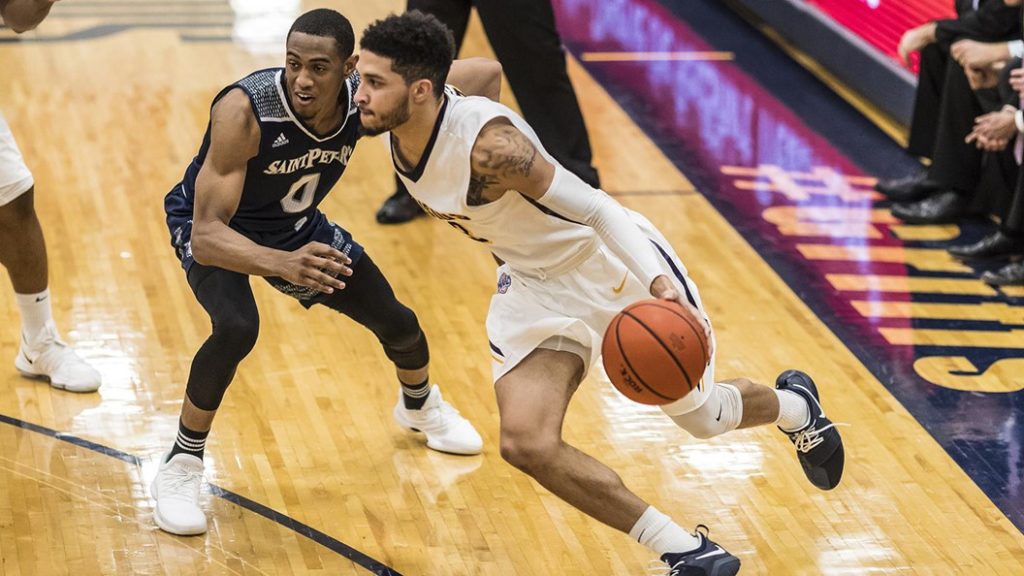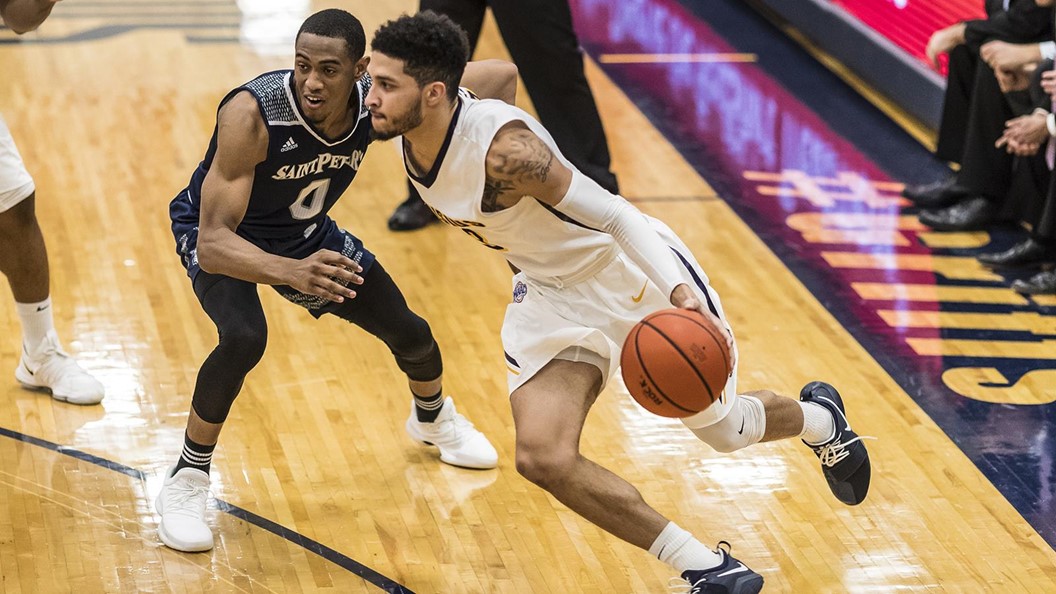 Courtesy of GoGriffs.com
RIVERDALE, N.Y. – Canisius sophomore Isaiah Reese scored all of his game-high 22 points in the second half and freshman Takal Molson added 14 points, four rebounds and four assists as the Golden Griffins went on the road and defeated Manhattan 68-59 Friday night in Draddy Gymnasium. The win, Canisius' third straight, improved the Blue and Gold to 12-8 overall and 6-1 in MAAC play, while the Jaspers fell to 9-10 overall and 4-3 in league action.
Reese scored his 22 points after he went 6-for-13 from 3-point land and 4-for-5 from the free-throw line to go with along with four rebounds, six assists and a career-high six steals. Molson went 4-for-9 from the field, 2-for-4 from 3-point land and 4-for-6 from the charity stripe in 33 minutes of action, while senior Jermaine Crumpton added 12 points, six rebound and three assists. Canisius shot 40.7 percent from the field for the game, highlighted by a 51.9 percent effort from the floor in the game's second half.
Manhattan's Pauly Paulicap scored 17 points and grabbed five rebounds to go with six blocked shots in the loss for the Jaspers. Senior Rich Williams scored 12 points and pulled down seven rebounds for Manhattan, which shot 47.8 percent from the field, but ended the contest with 19 turnovers, 12 of which came after halftime.
Canisius trailed Manhattan 34-31 with 16:17 left to play, but an 11-0 run by the Griffs, fueled by three 3-point field goals by Reese in a span of 1:49, put the Blue and Gold up 42-34 with 14:06 left on the clock. Manhattan was able to get within three points at 48-45 with 9:29 left in regulation time after Paulicap scored a lay-up, but five-straight points by Canisius, capped by another triple from Reese, pushed the visiting team to an eight-point margin at 53-45 with 7:45 left in the game.
Paulicap's lay-up with 9:29 would end up being Manhattan's last field goal for 7:34, as the Jaspers ended up scoring seven of their final 14 points from the free-throw line. The Griffs were able to turn 19 Manhattan turnovers into 20 points on the night, with 15 of those points coming in the game's second half. Canisius sophomore Malik Johnson dished out a game-high seven assists for the Blue and Gold, as the Griffs ended the night with 22 assists on 24-made field goals. Five Griffs had multiple assists in the win, the team's eighth win in its last nine contests, dating back to Dec. 19.
Head Coach Reggie Witherspoon's Postgame Comments
"First off, I thought the crowd here tonight was great. They were vocal and this was a great representation of what our league is about on national TV. They certainly did everything they could to make it uncomfortable for us here tonight. I thought the effort from both teams was at a really high level, and I'm proud of the perseverance that we showed after a tough first half. In the second half, I thought we played with much more confidence and we stayed focused at both ends of the floor."
Game Notes
• This was the 91st all-time meeting between the two schools, with Manhattan leading the series 54-37.
• Canisius has now won three-straight games in Draddy Gymnasium for the first time in series history.
• Reese's 22 points in the second half matched the highest scoring effort for a half by a Griff this season. Sophomore Spencer Foley also had 22 points in the first half in the Griffs' win over Youngstown State Nov. 18.
• Reese is the third different player in the MAAC to this season to record six-or more steals in a game this season. His 45 steals this year ranks third in school history for steals in a season by a sophomore.
• Crumpton extended his streak of scoring 10-or more points in a game to 16 with his 12 points on Friday. Those 12 points also allowed him to move past former Griff Darnell Wilson for 14th on the school's career scoring list.
• Freshman Jalanni White came off the bench and scored eight points, which matches a career-high.
Up Next
Canisius will wrap up its trip to the New York City area on Sunday, Jan. 21, when the team takes on Iona in New Rochelle, N.Y. That game will be broadcast live on ESPN3, with tipoff set for 1 p.m. The radio call will be available on Buffalo's WECK 1230-AM and 102.9-FM, GoGriffs.com and the TUNEIN app.