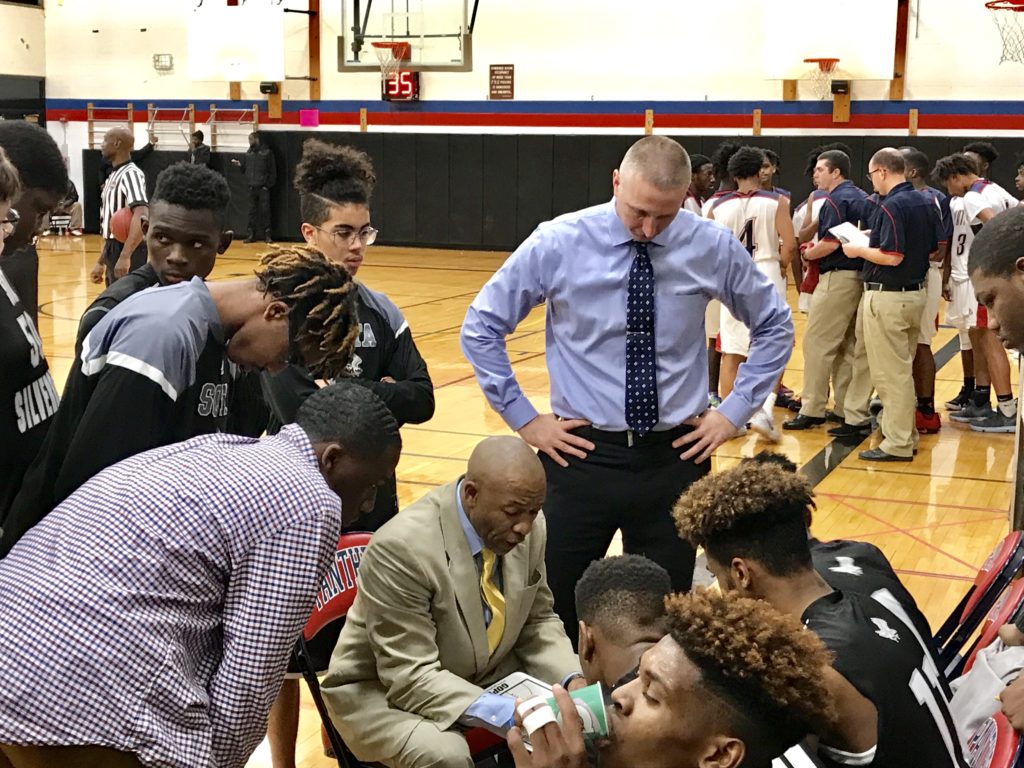 EARLY COLLEGE 50
SOTA 62
Ethain Clarke DeSouza led three in double figures with 19 points, and SOTA (8-6/1-3) won its second straight game. DeSouza netted nine points in the first quarter as the Silverhawks jumped to a 20-9 lead after the first eight minutes. Logan Hayes connected four times behind the arc and finished with 13 points. Reggie Smith also scored a baker's dozen. Ke'vion Mitchel scored eight. Markese Bellamy had seven.  Maurice Wiggins chipped in two. Shedrick Smith paced Early College with 18 points. Jahkies Moore scored 14. Marquis Crawford added seven. Prophet Hampton had six. Amir Buckhannon and Shamir Hampton added two apiece. Juney Jones had one point.
RED JACKET 38
HAC 65
Xavier Israel netted a game-high 19 points, and Rob Dorsey paced a lethal 3-point attack as HAC completed a season sweep of its Finger Lakes West rival. READ MORE.
LIMA CHRISTIAN 74
BLOOMFIELD 66
Jayson Faynor poured in 35 points including 14 during a pivotal third quarter as Lima Christian outscored Bloomfield 24-10 to take a 51-37 advantage into the final stanza. Twin brother, John Faynor, added 16, and Jacob Appleton finished with 17. Clark Consul scored six. Brian Gan and Kasey Gilbert had three apiece. Patrick Geitner paced Bloomfield with 29. Alex Roach had 20. Mitch Bliss scored seven for the Bombers. Devon Campbell and George Willix had three apiece. Trevor Farrell and Sam Brocklebank bot had two. The game featured two players in Jayson Faynor and Patrick Geitner who earlier this season both scored 50 points in a single contest.
MIDLAKES 58 OT
WATERLOO 62
Derek Slywka paced Waterloo (4-8/1-6) with 18 points, 10 rebounds, five assists and six blocks. Julian Ruiz added 17 points and a game-high seven assists to go with four rebounds. Mike Hubbard scored 12. Tim Imhoff grabbed eight rebounds, blocked five shots and chipped in six points. Bryce Burri led Midlakes with a game-high 19 points to go with five points and five assists. Devin Hicks hauled in a game-high nine rebounds to go with 11 points. Matt Mattoon scored 15 points and had four rebounds. Other scorers: Midlakes – Trevor Milliman (7) and Dan VanNostrand (6). Waterloo – Jake Webb (2), JaiQuon Lewis (5) and Joel Kraft (2).
WAYNE 60
GENEVA 46
ROMULUS 44
NAPLES 30
SOUTH SENECA 61
DUNDEE 54
ROCHESTER ACADEMY 57
ROCHESTER PREP 53
BELFAST 66
FILLMORE 55
HOUGHTON 48
GENESEE VALLEY 66
SCIO 58
ANDOVER 50
HINSDALE 26
WHITESVILLE 37