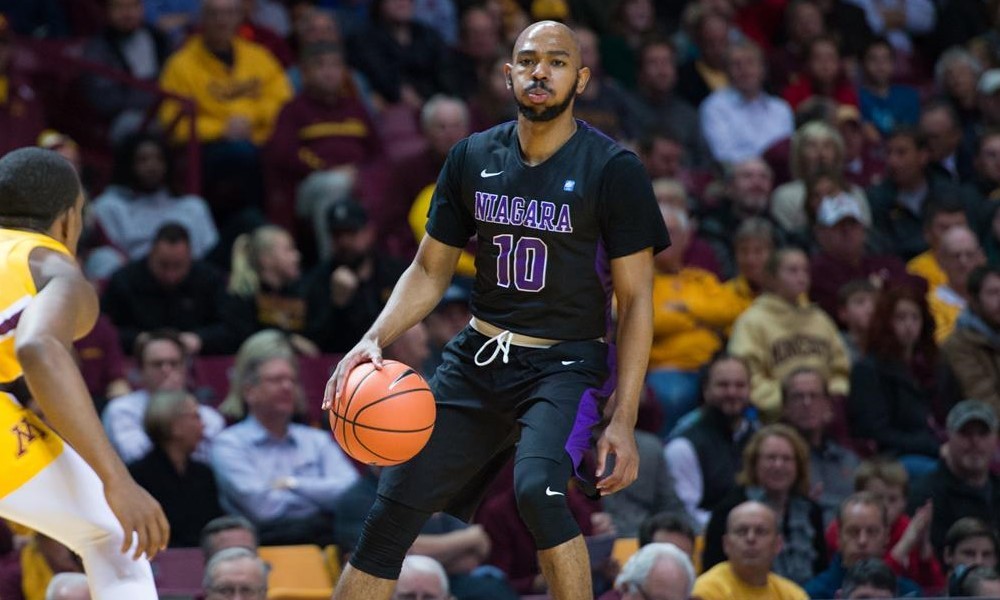 Courtesy of PurpleEagles.com
HAMDEN, Conn. – The Niagara University Purple Eagles rallied in the second half to down the Quinnipiac Bobcats, 81-73, on Thursday night to extend their win streak to five games.
Niagara erased a 10-point second half deficit with a 25-5 game-changing run over a nine-minute span.  Trailing 51-41 with 15:20 remaining, the Purple Eagles reeled off 14 straight points, bookended with layups by Greg King and Matt Scott, as NU took a 55-51 lead. The Purple Eagles led 57-56 when King started another run with a layup followed by a 3-point
er by Kahlil Dukes, and layups by Matt Scott and James Towns for a 66-56 lead.
The Bobcats cut Niagara's lead to 73-69 with three minutes left, but Niagara answered with points on its next two possessions. Towns connected a mid-ranger jumper and Prochet drained a 3-pointer for a 78-69 lead heading into the final minute of play.
The first half had four ties and nine lead changes. Down 19-9, a Dukes 3-pointer sparked a 13-2 run, capped by a Kierell Green 3-poiner, as NU regained the lead at 22-21 with 9:27 left. Five lead changes later, Quinnipiac went into halftime with a 37-35 advantage. The Bobcats opened the second half on an 8-2 run on their way to a 51-41 lead, before the Purple Eagles began their big comeback.
Eagle's Eye On…
·         Reigning MAAC Player of the Week Kahlil Dukes scored a game-high 23 points, including a game-high four 3-pointers, for his MAAC-leading 14th 20-point game. He was second on the team with four assists.
·         James Towns scored 14 points on 6 of 8 shooting, had a game-high five assists and grabbed four rebounds in 15 minutes.
·         Dominic Robb had 11 points, eight rebounds, and a game-high three blocks.
·         Matt Scott had eight points and eight rebounds.
·         Greg King chipped in eight points and seven rebounds.
Inside The Numbers
·         Niagara's five-game win streak is its longest since winning seven straight during the 2012-13 season.
·         The Purple Eagles have won six straight true road games for their longest consecutive true road win streak since winning seven straight from February 16, 1962 to January 26, 1963.
·         Kahlil Dukes has averaged 20.1 points in four meetings with Quinnipiac, while averaging 26 points in two games in the TD Bank Sports Center.
·         Niagara earned its first win at Quinnipiac in six attempts.
·         NU shot 61 percent from the field to shoot over 60 percent in the second half for the second straight game.
·         Niagara outscored Quinnipiac in points in the paint (38-32), points off turnovers (13-6), fast break points (12-2) and bench points (30-22). 
·         The Purple Eagles, who lead the MAAC in scoring, netted over 80 points for the 12th time this season.  
Up Next
·         Niagara continues its Connecticut road trip on Saturday, Jan. 20 against the Fairfield Stags at 1 p.m.
·         The game will air on the Niagara Sports Network via AM 1400 WWWS and www.PurpleEagles.com/Watch.