By PAUL GOTHAM
ROCHESTER, N.Y. — The last two meetings between the HAC and Red Jacket boys basketball teams were decided on the game's final play, both wins for the HAC Wolves. Thursday's contest had the same result. The means to that end differed.
Xavier Israel netted a game-high 19 points, and Rob Dorsey paced a lethal 3-point attack as HAC downed Red Jacket 65-38 in Finger Lakes West action.
Dorsey, usually a starter, came off the bench and connected on 5-of-7 attempts from behind the arc and finished with a season-high 17 points.
"I was wide open for half of those shots," Dorsey said. "The corners were always there."
When a head coach Paul Liotti needed to an insert an additional ball handler into his lineup, Dorsey gave up his starting spot. The senior forward made the most of the situation.
"I was able to see the opponent's tendencies and get used to it before I went into the game," he explained. "I could see where the open spots were."
Dorsey connected twice from long range during the first half to help HAC take a 31-16 lead into the locker room. The 6-foot-5 forward added five points in the third quarter and hit two more treys in the final stanza.
"Rob did a great job," Liotti said. "We needed to go with another ballhandler. That's the type of man and kid he is. He's going to do what the team needs. He came in and had a great game. It wasn't just all the points he scored. It was the defensive effort he gave. He was making blocks."
Dorsey was part of an overall effort which saw the Wolves hit a 11 of 17 3-pointers – a program high during Liotti's seven-year tenure.
"We put up a lot of shots in practice," Liotti noted. "We have a two-hour practice, and there's probably four segments of 12-15 minutes of just shooting. We call it circuit shooting. On each side there are five positions. We just shoot. You have to put the ball in the basket to win the game."
The Wolves' defense also played its part as HAC snapped a three-game skid.
"We know that we have the athleticism, but we just haven't put that defensive effort together," Liotti stated. "Two of our last three losses were South Seneca and Rochester Academy. They really just defended us very well. We couldn't do anything. We introduced two or three new drills and that's all we worked on. The defense was where we won today. We've realized that we can use our athleticism and pound the defense."
Xavier Israel scored six points in the first and added five in the second.
Ryan Hilton grabbed 14 rebounds, handed out five assists and blocked five shots. Kyle Lacey had nine points and two steals. Zitong Jin added six points for HAC (6-4/3-3). Yuhui Feng scored four points. Jackson Michalski had three points and Andrew Alexis, two.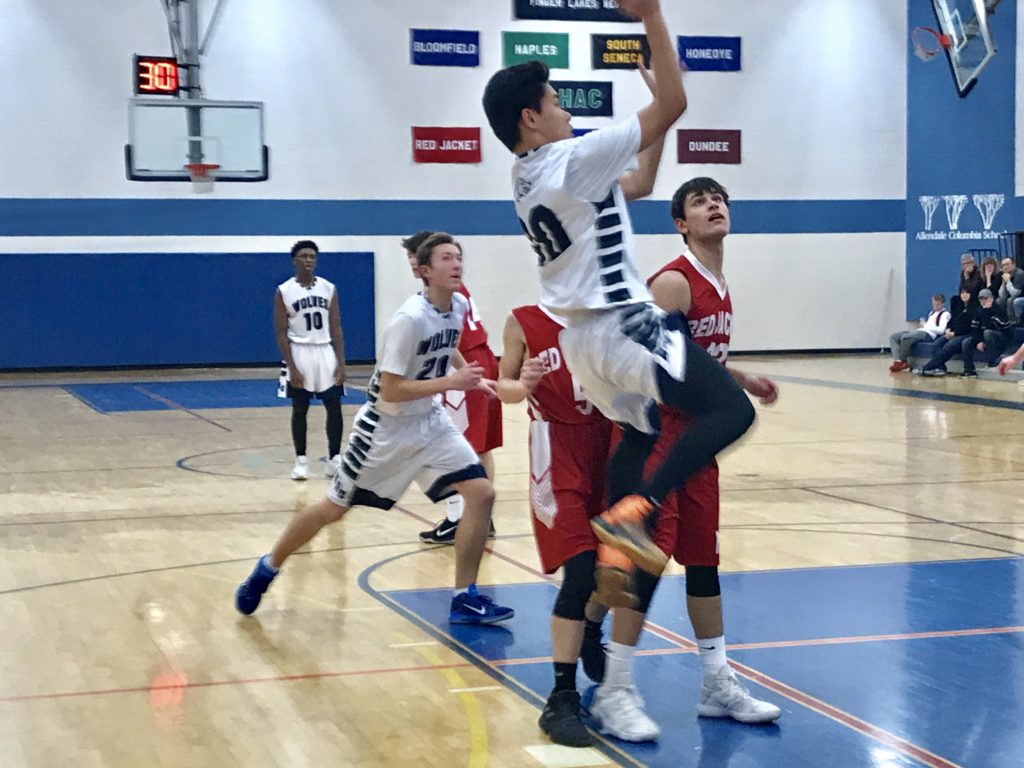 Spencer Jacobs paced the Red Jacket (5-7/5-4) offense with 11 points. Matt Record and Chase Rizzo scored six apiece. Travis Liberty and Tyler Cosgrove both scored five. Lawrence LaBombard had three and Jacob Keeley two.
Red Jacket had won five of six entering the contest.
Israel hit a layup with 4.4 seconds remaining to give HAC a 49-47 victory when the two teams met earlier this season. HAC beat Red Jacket by one late last season.