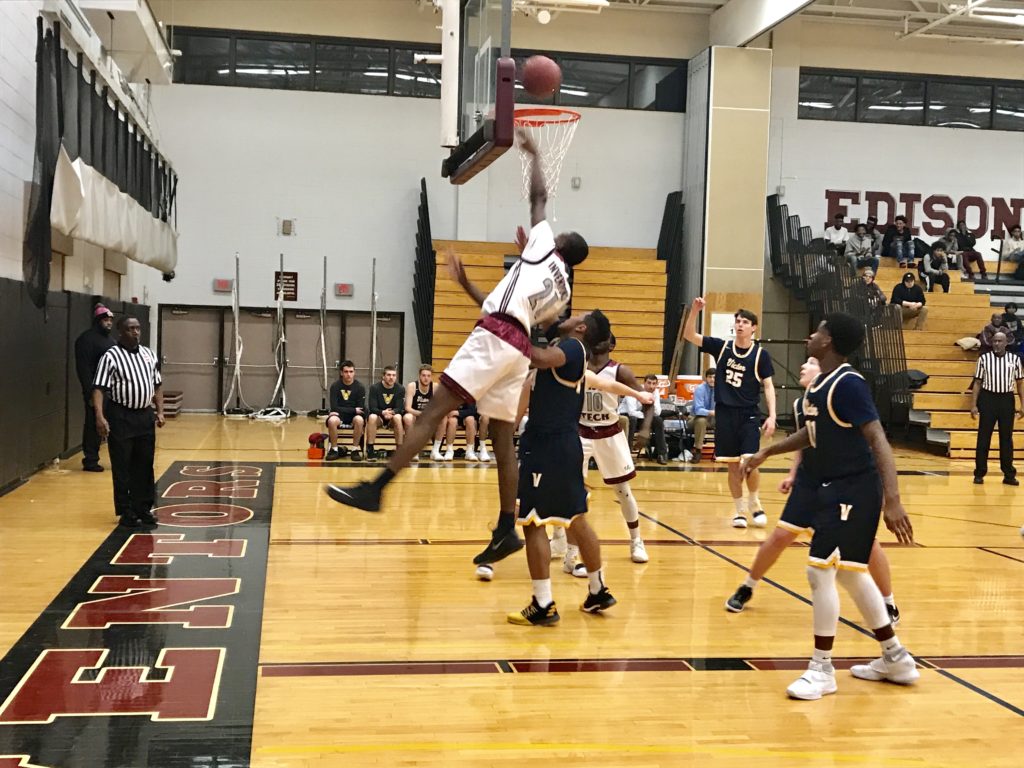 BY PAUL GOTHAM
ROCHESTER, N.Y. — Alton Knight keyed a fourth-quarter rally, and the Edison Tech Inventors went on to defeat the Victor Blue Devils, 68-57 in non-league action action, Tuesday night.
After leading for most of the game, Edison Tech found itself down three late in the contest. Knight scored five and handed out an assist in a decisive 7-0 spurt. With the win, Edison improved to 3-7 on the season.
"We started the season off rough," the junior guard said. "We're trying to go uphill right now. That win will boost our energy."
Knight's three-pointer from the right wing knotted the game at 52 with four and a half minutes remaining.
"I saw that the defender's hand was down," Knight explained. "I just pulled the 3."
Next trip down the floor, he found teammate Tristian Flowers in the lane for two of his season-high 17 points.
"I figured he would dish it down low if he got in trouble, so I was staying aware and open," Flowers said. "You have to be aware on the court."
Knight followed with a crossover dribble to get inside for two more and a 56-52 Edison advantage. A lead the Inventors did not surrender again.
Edison Tech guard Alton Knight with the nasty crossover & bucket during Inventors 68-57 win over Victor in Tuesday @sectvbb action. @jacobscott101 @PickinSplinters #ROC pic.twitter.com/k4SdCrV1ga

— Varsity Media (@VarsityMedia) January 17, 2018
VIDEO COURTESY OF VARSITY MEDIA
"We were hungry," Flowers stated. "We had to finish off strong. It felt good. We definitely deserved it. We've been practicing hard for it."
Flowers did his work in the paint throughout the night consistently finding the measure with a left-handed jump hook.
"I was making eye contact (with my teammates) and getting good passes in there," Flowers said. "I could feel the defender behind me. I work on those moves in practice, so I was prepared."
Knight scored nine of his 16 points in the fourth quarter.
Jeremiah Caldwell finished with 13 points and iced the game converting on four straight free throw attempts.
Marquan Anderson scored six of his eight points in the first quarter to lead Edison to a 19-15 lead after eight minutes of play.
Trailing by 11 late in the first half, Victor cut the margin to two three minutes into the third quarter.
Joey Colyer connected on a 3-pointer at the buzzer to end the first half and came out of the locker and drilled another trey (his fourth of the night). Tanner Hay took a Jon Crowley lead on the break and finished with a layup. Matt Caggiano made it a two-point affair at 38-36 with a corner 3.
Caleb Clow sparked a 9-0 run to give Victor the lead. The senior forward converted a rebound and putback. Next trip down the floor, he fed Charles Nwugwo for two and then tied the game at 47 with a pair of free throws.
Caggiano hit from the left wing to give Victor a 50-47 edge. The Blue Devils still led by three at 52-49 when Caggiano found Jeremy Summerson for a bucket.
Colyer led Victor with 14 points. Caggiano had 10. Hay and Nwugwo scored nine apiece. Summerson added six. Crowley scored five. Clow chipped in four points.
Edison ended the contest on a 19-5 run.
Dylon Foster, Demetrius Allen and Ryziere Wilson scored four apiece for Edison. Nassan Scott had two points.