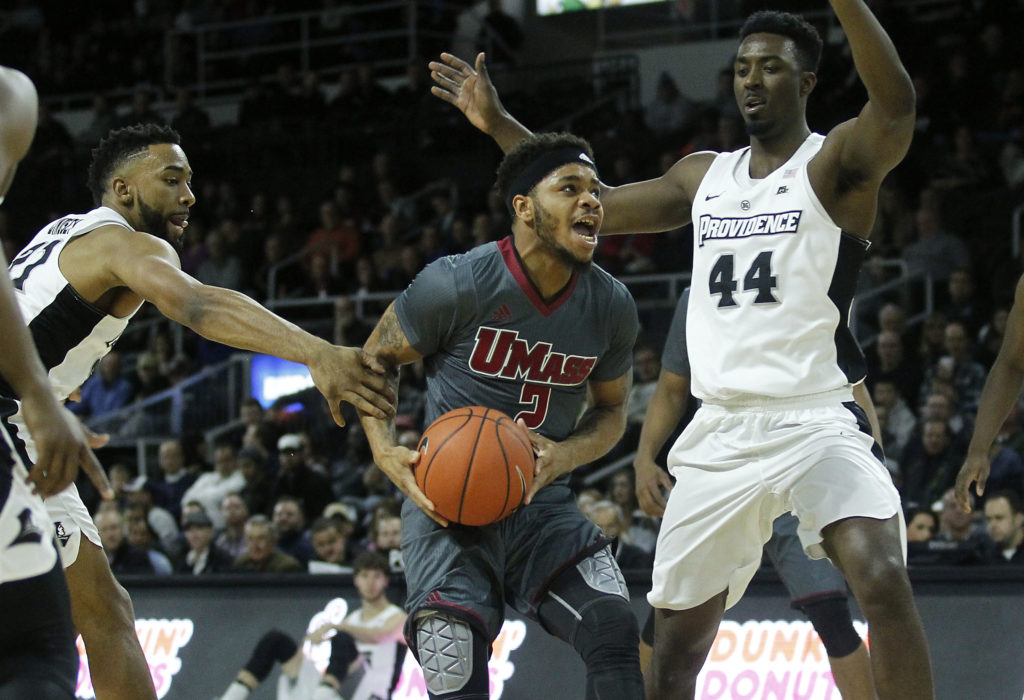 Courtesy of Atlantic10.com
NEWPORT NEWS, Va. – Massachusetts sophomore Luwane Pipkins was selected as the Atlantic 10 Conference Men's Basketball Player of the Week, while Davidson freshman Kellan Grady and UMass freshman Carl Pierre were chosen the league's Co-Rookies of the Week. The awards, announced Monday, are for games played Jan. 8-14.
Pipkins averaged 35.5 points, 6.0 rebounds and 5.5 assists per game leading UMass to wins over La Salle and Saint Joseph's. The guard shot 54.5 percent (24-of-44) from the floor, including 53.3 percent (8-for-15) from the 3-point arc, and 83.3 percent (15-of-18) from the charity stripe. His 44 points in the win over La Salle set a new UMass record for a single-game, eclipsing the nearly 50-year standing mark of 41 points. It was tied for the ninth most in A-10 history, and was a Mullins Center record. Along with his points, Pipkins added five rebounds and five assists to help UMass erase a 21-point second-half deficit. In Sunday's win over Saint Joseph's, the Chicago native added another 27 points along with seven rebounds and six assists, all team highs, to help UMass erase another double-figure deficit for the Minutemen's third straight win.
Grady finished the week averaging 16.5 points, 3.5 rebounds and 1.5 assists per game, while shooting 57.1 percent (12-for-21) from the floor and canning 5-of-8 (.625) 3-pointers. After a game-high 19 points in Davidson's win over George Washington, the guard from Boston capped his week with 14 rebounds, including four 3-pointers in the Wildcats' fourth straight win, a 75-45 triumph at Fordham.
Pierre, who also hails from Boston, played a key role against La Salle and Saint Joseph's by averaging 21 points and 3.5 rebounds in the two victories. The rookie shot 57.1 percent from the floor and the same from beyond the arc. Of his 16 made field goals, eight were 3-pointers, including a 5-of-7 (.714) effort against the Hawks. In Wednesday's win over La Salle, the guard scored a career-best tying 25 points on 10-of-16 (.625) shooting to go with four rebounds, a block, an assist, and a steal. In Sunday's win over Saint Joseph's, he notched 17 points with three rebounds, two assists and a block. READ THE COMPLETE CONFERENCE RELEASE HERE. 
WEEKEND RECAPS
VCU 79
DAYTON 106
The Flyers held the lead from tip-off through the final buzzer and set a school record with 17 three-pointers made.  Darrell Davis led the Flyer offense in scoring with 28 points—tying his career-high. READ MORE.
ST. BONAVENTURE 73
RHODE ISLAND 87
The two preseason choices at the top met Saturday morning in Kingston, and the University of Rhode Island took full advantage of an opportunity to stamp its authority on the title race. READ MORE.
LA SALLE 94 3OT
DUQUESNE 101
Those who began filing out of their seats at Palumbo Center soon regretted it.Standing behind the balcony, they watched sophomore guard Mike Lewis II score 11 points in triple overtime. READ MORE. 
SAINT LOUIS 81
GEORGE MASON 86
GEORGE WASHINGTON 68
RICHMOND 78
DAVIDSON 75
FORDHAM 45
SAINT JOSEPH'S 69
UMASS 72
AMHERST — The comeback started a little later, but the hole was a little smaller. Either way, the result was the same.
Behind more additions to Luwane Pipkins' highlight reel, UMass climbed out of another double-digit hole and sent another Philadelphia team home disappointed. READ MORE.