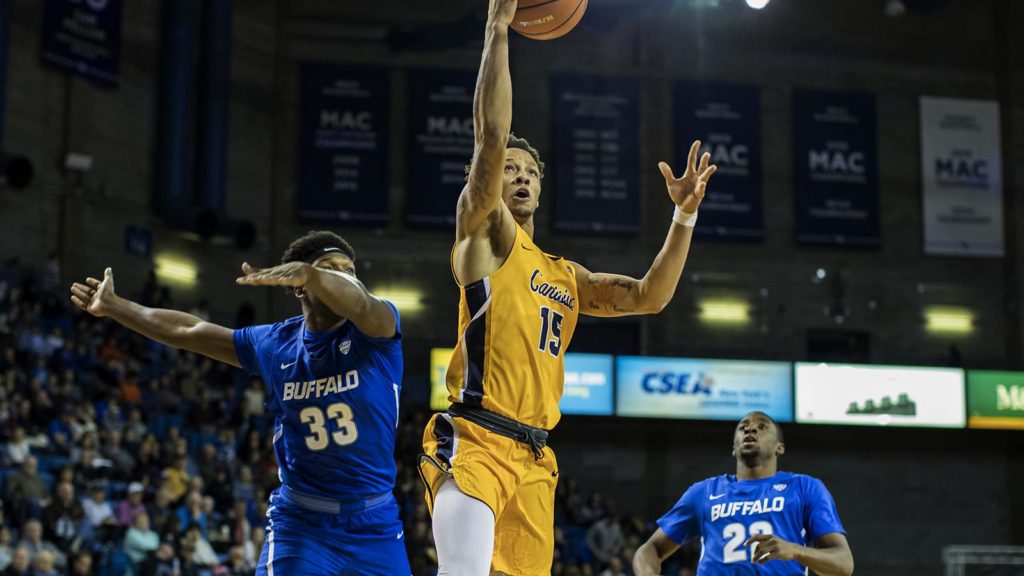 Courtesy of GoGriffs.com
Canisius freshman Takal Molson was named the MAAC Rookie of the Week on Monday after helping the Golden Griffins to two home wins last week over Saint Peter's and Monmouth. This marks the second time in three weeks where the Buffalo native has been honored as the conference's top freshman performer.
Molson led Canisius by averaging 20.5 points, highlighted by his game-high 23-point effort in the Griffs' 70-58 victory over Saint Peter's Jan. 12. Those 23 points, coupled with his 21-point effort at Siena Jan. 7, makes him the first freshman in program history to score 20-points in back-to-back MAAC games. In the team's victory over Monmouth Sunday, Molson scored 18 points, grabbed six rebounds and matched a career-high with five assists to help move the Blue and Gold to 5-1 in MAAC play for the first time since the 2013-14 season.
For the week, Molson also averaged 5.0 rebounds and 3.0 assists while shooting 52.2 percent (12-for-23) from the field, 45.5 percent (5-for-11) from 3-point land and 70.6 percent (12-for-17) from the free-throw line. He matched a career-high with four 3-point field goals in the win over Saint Peter's and closed out the Monmouth game by going 11-for-16 from the charity stripe. Both of those numbers are also career highs for the rookie.
Molson is averaging 12.6 points per game for the season, which ranks third among all MAAC freshmen. In league games, he's good for 18.0 points and 7.2 rebounds per game in six contests, which ranks among the top-10 in the conference. He's scored 20-or more points four times, and he's averaging 29.3 minutes per game, which ranks third among all MAAC rookies.
Canisius, which has won seven of its last eight games, is 11-8 overall and 5-1 in MAAC play. The Griffs will be on the road for their next two games, starting at Manhattan Friday night, Jan. 19. That game will be broadcast live on ESPNU, with tipoff set for 9 p.m. The radio call will be available on Buffalo's WECK 1230-AM and 102.9-FM, GoGriffs.com and the TUNEIN app.
Courtesy of PurpleEagles.com
EDISON, N.J. –  Redshirt-senior guard Kahlil Dukes was named MAAC Player of the Week for the second time in his career announced on Monday.
Dukes averaged a team-high 23 points per game while shooting 63.6 percent (14-for-22) from the field and 60 percent (6-for-10) from the 3-point line as the Purple Eagles picked up wins over Monmouth and Saint Peter's to extend their win streak to four games.
Dukes led all scorers with a game-high 25 points in the win over Monmouth. He drained three 3-pointers and had three assists. In the victory over Saint Peter's on Sunday, Dukes scored 21 points, including adding to his MAAC-leading 3-point totals with 3, and had a team-high three assists. Dukes now has 13 20-point games. Dukes averaged 3.0 assists per game and had a 2.0 assist/turnover ratio in the two games.
Dukes is second in the conference in points per game (20.8), and leads the MAAC in free throw percentage (89.6 percent), 3-pointers per game (3.1) and 3-point field goal percentage (43.9 percent).
The Purple Eagles, who have won five straight road games, are back on the road this week starting on Thursday, January 18 against Quinnipiac at 7 p.m. and on Saturday, January 20 against Fairfield at 1 p.m.