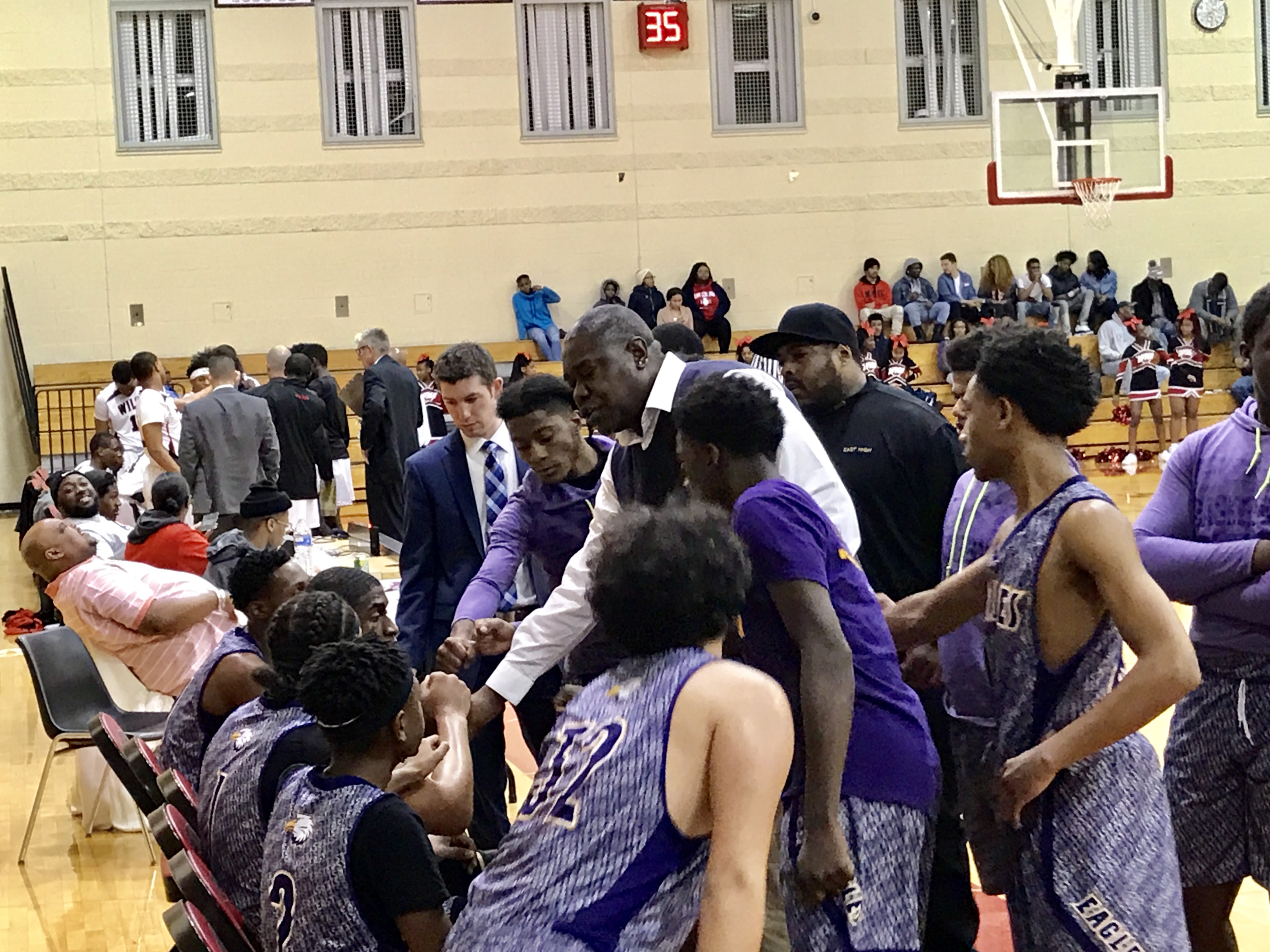 EAST HIGH 72
FRANKLIN 53
Maurice Coney III netted 12 of his 18 points in the fourth quarter as East outscored Franklin 23-9 in the stanza. Deshawn Holley added six points over the final eight minutes of play, and the Eagles won for the fifth time in their last seven games. Chaz Washington matched Coney with 18 points. Kni Jear Sapp scored 16. Reynaldo Ayala added four points. Zaire Hammond had three, and Shyheim Nichols-Lester, two. Franklin's Devontae Goins and Tommy Coleman both connected twice behind the arc in the third quarter as the Quakers outscored East 19-16 to pull within five at 49-44 entering the fourth. Goins finished with 16 points on the night. Coleman added seven. Tahir King scored 12 points for Franklin. Kentonio Kelly had nine. Tyree Spann scored seven. Anthony Smith chipped in two points.
WORLD OF INQUIRY 82
ROCHESTER PREP 57
Charles Maurice Brown and CeyQuan Salmon combined to score 51 points, and WOI improved to 9-2 on the season. The duo netted 15 in the third quarter when the Griffins outscored Rochester Prep 20-12 to push a seven-point halftime advantage to double digits. Salmon posted a game-high 27. Brown had 24. Jahlil Bell added eight points. Jamir Douglass had six. Javonte Burrell chipped in five. Bobby Searight and Frankie Santiago scored three apiece. Tremier Dollar and Kyle Beasley both had two. Marques Thomas led Rochester Prep with 20 points. Jaden Hayes had 13 and Wesley Henderson, 11. Bruce Lewis and Terrance Washington scored five apiece. Jamir Davis had three.
BISHOP KEARNEY 78 
EDISON TECH 48
Shykell Brown had eight points in the second quarter, and Bishop Kearney outscored Edison Tech by 11 in the period to take a double-digit lead into halftime. Brown converted 8-of-8 free throw attempts on the night and led five in double figures with 21 points. Kevin Goode, Jr. scored 13 points. Jamal Fennell added 12. Michael Gentile had 11, and AJ Gray, 10 points. Jamal Williams and Jordan Love scored four apiece. Brandon Whitlow rounded out the scoring for Kearney (4-6) with three points. Alton Knight led Edison Tech with 10 points. Marquan Anderson connected on five of seven free throws and finished with nine points. Da'Shawn Sims-Jones had eight. Demetrius Allen chipped in six and Jeremiah Caldwell four points. Dylon Foster, Ryziere Wilson, Tristan Flowers and Justin McCoy scored two apiece for the Inventors. Nassan Scott had one point.
WATERLOO 37
GENEVA 49
Reid Patchett led Geneva with 12 points and 12 rebounds. Nick Askin added eight points for the Panthers (4-8). Parker Brossard scored seven, and Liam Ryan had five points.
RED CREEK 32
CLYDE-SAVANNAH 86
Marcus Chance collected 20 points, eight steals and  seven assists to lead Clyde-Savannah (9-2), ranked No. 8 NYSSWA Class D. Dru Carnevale posted a game-high 25 points. Camden Chance had 14 points and 10 rebounds. Dan Smith led Red Creek with eight points and six rebounds.
EAST ROCHESTER 45
SODUS 46
Marquese Burton converted a game-winning three-point play with :20 remaining, and Sodus improved to 4-5 on the season. Maliq Burton and Lonnie Logins had 12 points and nine rebounds apiece for the Spartans. Mat Cicero led East Rochester (7-2) with 15 points and John Lexer added 12 points.
GANANDA 76
WILLIAMSON 54
Gananda's Jayden Castrechini led three in double figures with 15 points. Kole Wright had 12 points, and Andrew Gabbard 10. Williamson's Drew DiSanto and Josh Miller scored 12 points apiece. Lucas Jackson added 10 points.
MARION 45
NORTH ROSE-WOLCOTT 53
HORNELL 31
LIVONIA 54
Da'Vieque Naulls hit three 3-pointers and finished with 16 points to lead Livonia. Alex Minnehan added 11 points. Barrett Lowe grabbed 10 rebounds and scored eight points for the Bulldogs (8-2).
CUBA-RUSHFORD 54
PRATTSBURGH 70
AVOCA 59
JASPER-TROUPSBURG 40
ALFRED-ALMOND 24
BRADFORD 27