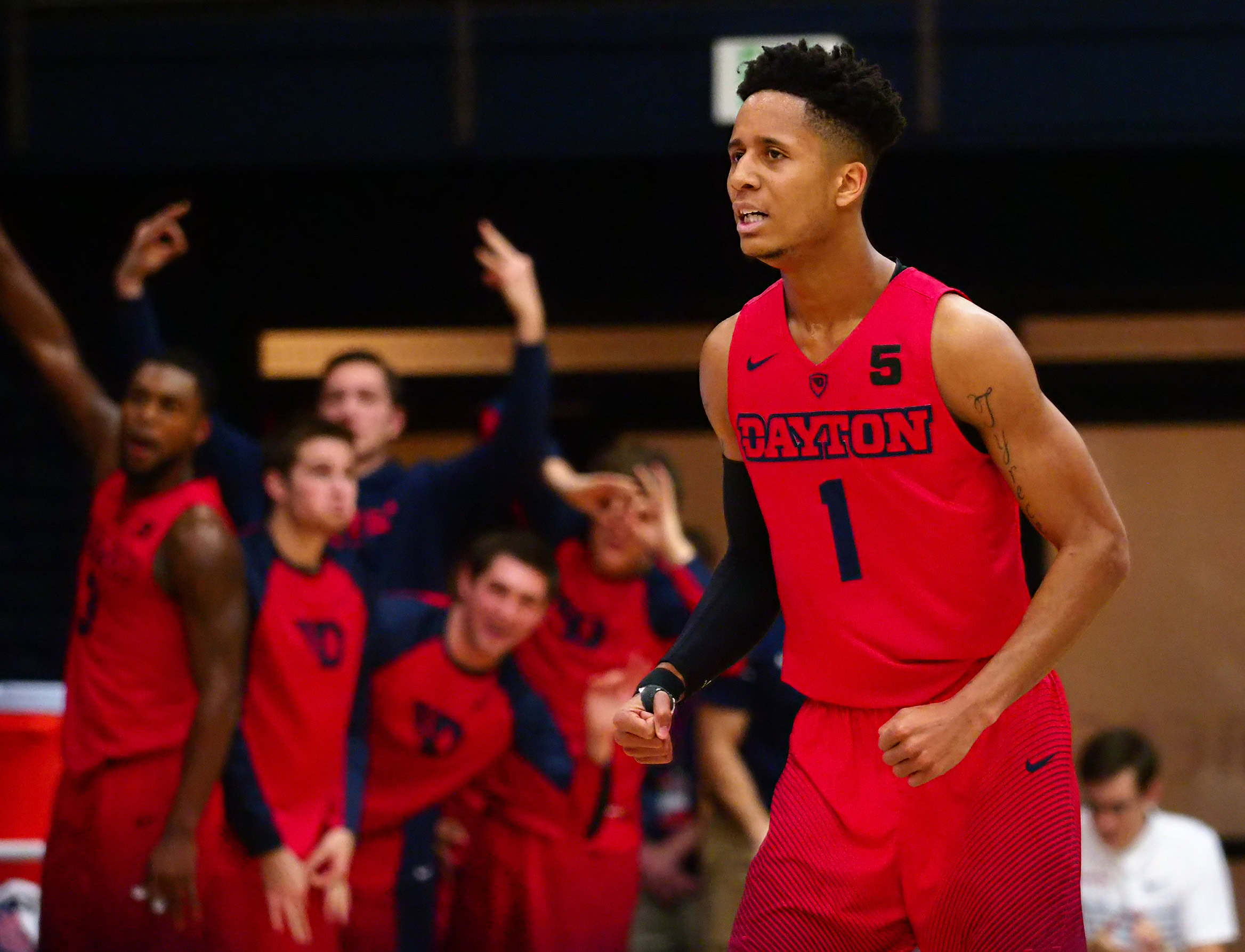 Recaps and results from Atlantic 10 men's basketball action from January 3rd, 2018. 
LA SALLE 62
RHODE ISLAND 74
URI (10-3, 2-0) opened up some breathing room thanks to an 8-2 run into halftime. La Salle (7-8, 1-1) was held without a field goal over the final 3:21 and drives to the rim by Matthews and Jeff Dowtin made it a 33-26 game at the break. The Rams enjoyed a 19-3 advantage in points off turnovers and doubled up the Explorers in the paint, 24-12, over the first 20 minutes. READ MORE.
The six-point possession that helped the Rams take control was crucial. Matthews hit a jumper just as a foul on a block-out was called. Off the ensuing inbounds, Matthews hit a 3-pointer, got fouled and made the free throw. The sequence bumped a three-point lead to nine and it didn't dip below that again. READ MORE. 
ST. BONAVENTURE 72
DAYTON 82
The Flyers never trailed in the game, and Darrell Davis scored a career-high 28 points to lead all scorers, while also leading the team with seven rebounds.Trey Landersalso reached his career-high scoring total with 17 points. The win was the 200th of coach Anthony Grant's 10-year college coaching career. READ MORE. 
Bona pulled to within nine on three different occasions midway through the second half and to eight (66-58) on an Izaiah Brockington 3-pointer with 2:45 remaining. It eked to within seven after back-to-back 3-pointers from Mobley with 39 seconds left. But by that point, it was too late. READ MORE. 
GEORGE WASHINGTON 52
DUQUESNE 69
Duquesne shot .483 from the field, its second-highest percentage this season, and moved to 11-4 overall and 2-0 in the Atlantic 10. With their defense-first mentality, the Dukes, picked preseason to finish last in the conference, have now surpassed last year's win total. READ MORE. 
SAINT LOUIS 51
DAVIDSON 54
DAVIDSON, N.C. – Davidson held Saint Louis without a field goal the final 11:15 and Peyton Aldridge scored a game-high 21 points to lead the Wildcats to a 54-51 victory Wednesday at Belk Arena. READ MORE. 
GEORGE MASON 80 OT
UMASS 72
With just over a minute left in overtime and Mason up 73-72, UMass thought it had the ball after the initial out-of-bounds call pointed UMass' way. But video review gave the Patriots possession. After Unique McLean blocked Grayer's 3-pointer in the right corner, GMU had just two seconds on the shot clock. READ MORE.
VCU 81
SAINT JOSEPH'S 87 OT
Freshman Taylor Funk scored 19 points and hit a three-pointer late in overtime to help Saint Joseph's defeat VCU, 87-81, in Atlantic 10 action at Hagan Arena. The win snapped a two-game losing streak for Saint Joseph's (6-7; 1-1 A-10). READ MORE.
RICHMOND 65
FORDHAM 69 OT
Bronx, N.Y. – The last time Fordham defeated Richmond in a men's basketball game, Fordham junior guard Joseph Chartouny was 13 years old. Luckily for the Rams Chartouny grew up to become a well-rounded player as he scored 26 points and grabbed 12 rebounds, both career-highs, to lead Fordham. READ MORE.