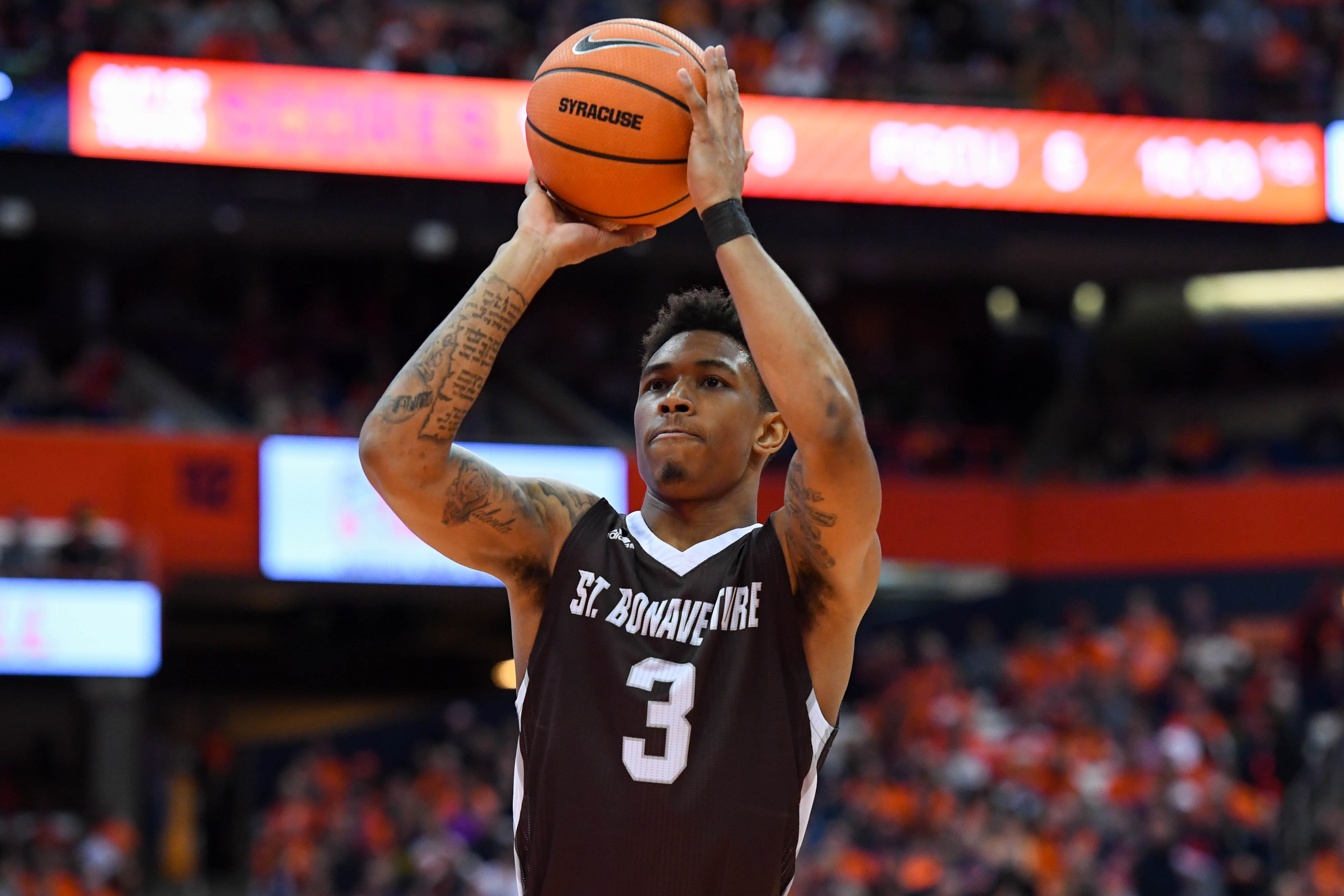 Courtesy of Atlantic10.com
NEWPORT NEWS, Va. – St. Bonaventure senior Jaylen Adams was selected as the Atlantic 10 Conference Men's Basketball Player of the Week, while Davidson freshman Kellan Grady was selected the league's Rookie of the Week. The awards, announced Tuesday, are for games played Dec. 25-31.
Adams, a Baltimore native, led the Bonnies to a win over UMass with 32 points on 10-of-16 (.625) shooting from the field and 4-for-6 (.667) from 3-point range. Adams dished out seven assists and did not commit a turnover in the conference-opening victory. The guard, who was just three points shy of his career high, also added four rebounds and a steal and was 8-for-10 (.800) at the line.
Grady finished the week averaging 27.5 points, while shooting 58.3 percent from the floor, including a 9-of-16 (.563) effort from behind the 3-point line. In Davidson's win over Akron at the Diamond Head Classic, Grady scored 24 of his season-high 30 points in the second half, while going 12-of-19 from the field. His fifth 20-point outing of the season came in Davidson's conference opener at Richmond. The guard from Boston scored a game-high 25 points on 9-of-17 (.529) shooting, including four more 3-pointers. READ THE COMPLETE CONFERENCE RELEASE HERE.
RESULTS FROM THE WEEKEND'S ACTION
GEORGE MASON 64
RHODE ISLAND 83
SOUTH KINGSTOWN — It certainly didn't take long for the University of Rhode Island to adjust to its new role as defending Atlantic 10 tournament champions.
The Rams returned to conference play with a bang on Saturday, jumping on George Mason from the opening tip and never letting up in front of an appreciative Ryan Center crowd. READ MORE.
Even for a team that's accustomed to high assist totals, the first half was something special for the Rams. They tallied an assist on 15 of their 16 field goals, with a pull-up 3-pointer by E.C. Matthews the only exception. READ MORE.
UMASS 78
ST. BONAVENTURE 98
ST. BONAVENTURE — On the inside cover of the St. Bonaventure media guide, there's a picture of Jaylen Adams and Matt Mobley standing back-to-back with the caption "The Gold Standard" displayed above.
The page serves as a reminder that Adams and Mobley were the nation's top scoring duo entering the season. READ MORE.
And the A-10, in a transition year, with four new coaches and two in their second season, suddenly find St. Bonaventure, the Atlantic 10's smallest school, with the most productive backcourt in program history, as a legitimate bidder for the conference title. READ MORE.
DAVIDSON 58
RICHMOND 69
Richmond's De'Monte Buckingham was physically defending Davidson's Peyton Aldridge in the low post during a second-half episode Saturday at the Robins Center. A Davidson guard drove. READ MORE.
FORDHAM 63
VCU 76
VCU, which won 76-63 and wore gold 1985 throwback uniforms, shot a season-high 66.7 percent in that first half, and 58.3 percent from deep. The Rams led 48-28 at halftime. READ MORE.
DAYTON 62
DUQUESNE 70
If nothing else, Duquesne used its first Atlantic 10 Conference game of new coach Keith Dambrot's tenure to show the rest of the league it won't be a pushover anymore.
Might even try to push you over. READ MORE.
SAINT LOUIS 60
LA SALLE 83
PHILADELPHIA – Redshirt junior guard Pookie Powell put together an impressive offensive display, scoring a game-high 28 points to lead the La Salle University men's basketball team (7-7, 1-0 A-10) to a convincing 83-60 win over Saint Louis (7-7, 0-1 A-10) in the Atlantic 10 season opener for both schools on Saturday. READ MORE.
SAINT JOSEPH'S 64
GEORGE WASHINGTON 70
The Colonials led wire-to-wire after stifling the Hawks in the first half with a defense that yielded just a .276 (8-of-29) field goal percentage in the opening stanza, including 1-of-11 from long range. READ MORE.