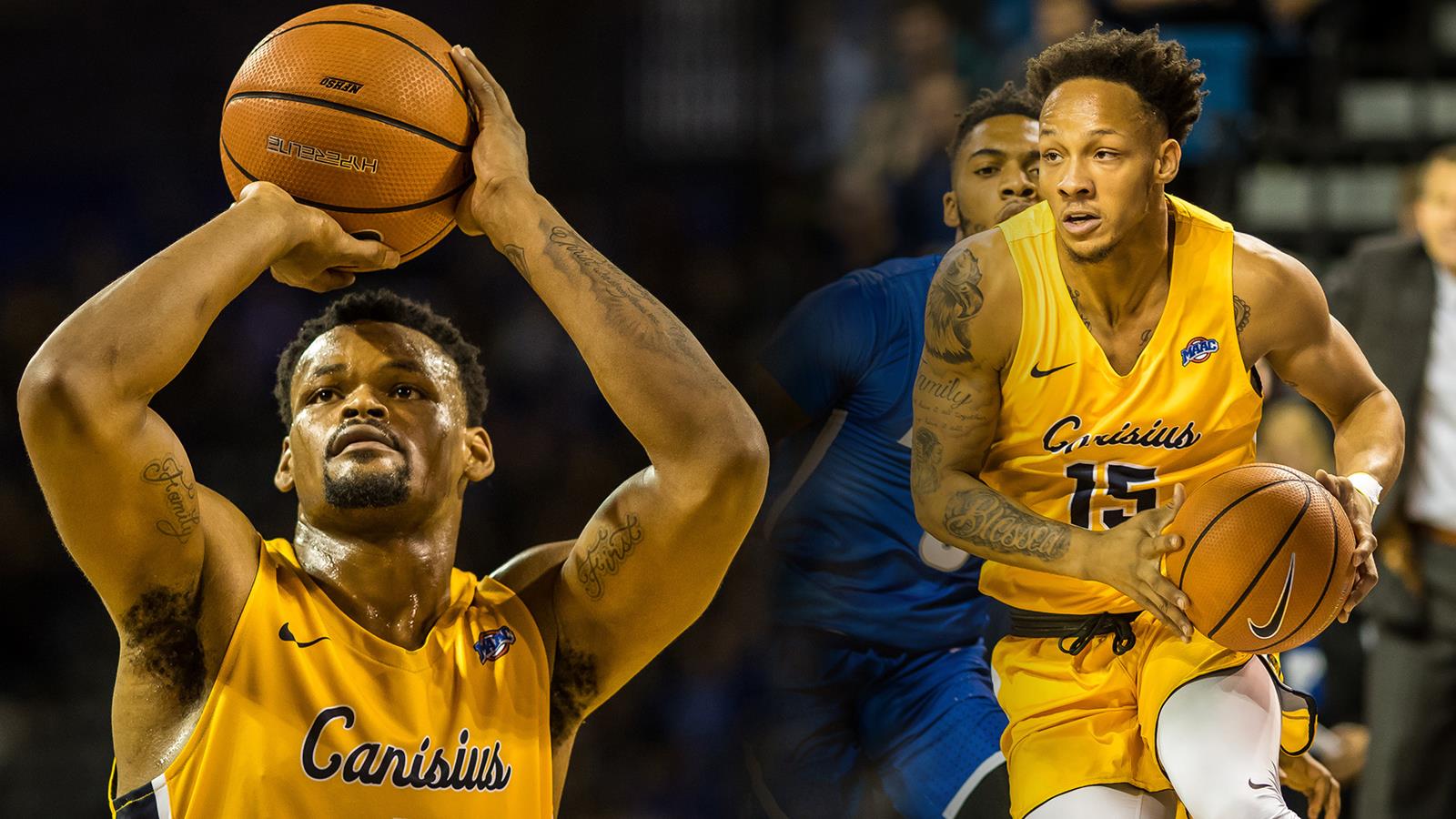 Courtesy of GoGriffs.com
After starting MAAC play with a pair of home victories, Canisius senior Jermaine Crumpton was named the MAAC Player of the Week and freshman Takal Molson earned MAAC Rookie of the Week honors, the league office announced Tuesday. This is the second occasion this season where one of the 11 schools in the MAAC swept the weekly awards program after Fairfield won both awards back on Nov. 13.
Crumpton averaged 22.0 points, 5.0 rebounds and 2.0 assists per game last week in the Golden Griffins' home wins over Rider and Iona. In the victory over Rider Dec. 29, the Niagara Falls, N.Y., native scored a game-high 20 points and grabbed two boards to go with two assists as the Blue and Gold started league play with a victory for the sixth-straight season. He followed that effort by matching a season-high with 24 points on 9-for-18 shooting, while also securing eight rebounds and two assists in 36 minutes of action in the team's win over Iona Dec. 31. Crumpton has scored in double-figures in 11-straight games, and he's now posted 20-or more points five times this year.
Crumpton joins teammate Isaiah Reese as the only two Griffs to earn MAAC Player of the Week honors this season. Last year, Crumpton earned MAAC Player of the Week accolades one time and he started this season as a Preseason All-MAAC First-Team honoree.
Molson averaged 19.5 points, 9.5 rebounds and 2.5 assists per game last week, highlighted by his first career double-double effort in the team's 77-76 win over Rider. Against the Broncs, the Buffalo, N.Y., native scored 18 points and grabbed a career-high 10 rebounds to become the first freshman in program history to record a double-double in his first career MAAC contest. In the win over Iona, Molson poured in 21 points and was credited with nine boards. For the week, he shot 52 percent from the field, 60 percent from 3-point land and 71.4 percent from the free-throw line. This is the first time he's been honored with a weekly conference honor.
Winners of four straight, the Griffs will return to action on Friday, Jan. 5, when the team plays at Quinnipiac in their first road MAAC game of the season. Tipoff in Hamden, Conn., is set for 8 p.m. The game will be broadcast live on ESPN3, and the radio call available on Buffalo's WECK 1230-AM and 102.9-FM, GoGriffs.com and the TUNEIN app.