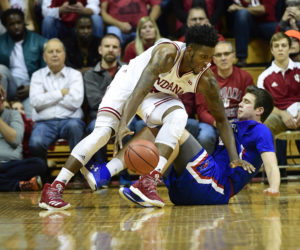 #6 INDIANA 100 UMASS-LOWELL 78
INDIANA- Led by junior guard James Blackmon Jr. and his 23 points, the Hoosiers move to 2-0 on the season with a win in its home opener, the Indiana Classic. Thomas Bryant (Bishop Kearney) finished with nine points, five rebounds, three assists and three blocks. UMass-Lowell saw junior guard Jahad Thomas score 16 points, good for the team lead. The River Hawks fall to 1-2 on the season.
#17 SAINT MARY'S 110 PRAIRIE VIEW A&M 72
SAINT MARY'S- Junior guard Emmett Naar paced Saint Mary's with 16 points and 11 assists, picking up a double-double. Prairie View A&M's junior guard James Westbrook led the team with 13 points. Saint Mary's improves to 2-0, while Prairie View A&M falls to 1-2.
#21 RHODE ISLAND 79 BROWN 72
Rhody picked up a near double-double performance from senior forward Hassan Martin, who collected 12 points and eight rebounds. However, the team's leading scorers were junior guard Jared Terrell with 18 and junior guard EC Matthews with 17. Brown was carried by senior forward Steven Spieth, who had 21 points and five rebounds. Rhode Island moves to 3-0 and Brown drops to 1-2.
#25 CALIFORNIA 75 UC IRVINE 65
Cal outscored Irvine 13-3 in overtime to get the win. Cal's leading scorer was freshman guard Charlie Moore, who dropped 38 points in 40 total minutes. Irvine guard Jaron Martin, a senior, was the top scorer for the team with 26 points. Cal improves to 2-0 and Irvine now sits at 2-1.