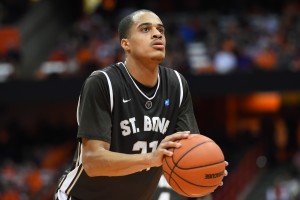 Courtesy of GoBonnies.com
ST. BONAVENTURE, N.Y. – St. Bonaventure University has announced two ticket promotions and a pre-game tailgate party for the annual Little Three rivalry men's basketball game vs. Niagara on Wednesday, Dec. 30 at 7 p.m. in the Reilly Center.
The first 100 tickets in the end zone bleachers will be buy one, get one free courtesy of the Greater Olean Area Chamber of Commerce (GOACC). Ticket price for those tickets is $8 and will only be sold beginning at 5 p.m. from the SBU Ticket Office on Wednesday. In addition, as part of the GOACC Night, all tickets in group sections will be sold for $8 to fans who mention GOACC.
Student section tickets in Sections L, M and N are $15 and include a voucher for a free food and drink item at the concession stand.
Prior to the game, Paul Brown Motors will host a tailgate party for fans on campus. Fans will be able to pick up free food and drinks from 5:00 – 7:00 p.m. at a heated tent located between the Swan Business Building and the Reilly Center.