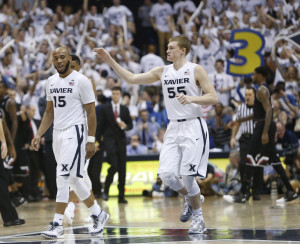 Courtesy of GoXavier.com
CINCINNATI — Xavier University junior guard Myles Davis has been named to the BIG EAST Conference Weekly Honor Roll for his efforts in the wins this past week over Wright State and No. 23 Cincinnati.
Davis averaged 15.0 points, 4.0 rebounds and 2.5 assists for the two games, while shooting 62.5 percent (10-of-16) from the field, including 62.5 percent (5-of-8) from 3-point range. For the season, Davis is second on the team in scoring (11.7 ppg.) and assists (2.8 apg.).
No. 12 Xavier, 10-0, has matched the best start in school history. XU started the 1996-97 season at 10-0 under the late Skip Prosser.
Xavier, which is in the midst of semester exams this week, resumes play this Saturday with a noon game against Auburn at Cintas Center.