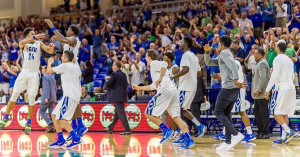 Courtesy of FGCUAthletics.com
DUNK CITY, Fla. – Freshman Rayjon Tucker's game-winning and-1 finish with 10.6 seconds remaining lifted the FGCU men's basketball team (6-4) to a 77-76 victory over visiting Massachusetts (5-4) Sunday afternoon at Alico Arena.
Tucker (Charlotte, N.C./Northside Christian Academy) drove down the lane, drew a foul and hit a floater from about six feet out off an out-of-bounds play by the Eagles. The true first-year player then hit the free throw to complete his season-high 15-point outing as FGCU staved off a UMass 3-point attempt just before the buzzer by Trey Davis which fell short.
Redshirt junior Marc-Eddy Norelia (Orlando, Fla./Tulane/Olympia HS) led all scorers with 20 points and also secured eight rebounds, while sophomore Christian Terrell (Jacksonville, Fla./Providence HS) added 14 points and six rebounds. Redshirt junior Demetris Morant (Miami, Fla./UNLV/Bishop Gorman HS) just missed a double-double with nine points and a game-high nine rebounds. In addition to his 15 points – 10 of which came in the second half – Tucker also secured seven rebounds as he went 7-8 from the free-throw line.
As a team, FGCU shot a season-best 83.3 percent (15-18) from the free-throw line and out-rebounded the Atlantic 10 Conference member, 48-34, including 17-13 on the offensive end to create a 25-14 edge in second-chance points. The Green and Blue's bench again was instrumental as they turned in 36 points. Additionally, continuing an early-season trend, a majority of FGCU's points came from non-seniors as on Sunday only six points were recorded by seniors, and all of those were from Julian DeBose (Washington, D.C./Rice/St. John College HS).
"It was a really good game – we had some spurts where we were really good and some stretches where we were pretty bad. We need to do a better job of stemming the tide and not have so many peaks and valleys," commented FGCU head coach Joe Dooley. "Rayjon obviously made a big play at the end, and Marc-Eddy kept us in the game in the first half."
FGCU led for more than 30 minutes over the Minutemen, and didn't allow UMass to hold the lead until the 15:20 mark of the second half when Jabari Hinds converted a layup. The Eagles had a 74-70 lead with 2:30 to play, but a 6-0 run by the Minutemen – capped by a Davis 3-pointer off an offensive rebound from a missed free throw – put UMass in front, 76-74 with 1:30left.
Holding that two-point lead, UMass turned FGCU over with just more than a minute remaining. However, on the ensuing possession, Donte Clark was whistled for a 10-second backcourt violation, giving the ball back to the Eagles. They missed several contested chances at the rim with about 30 seconds to play, but kept possessions alive with offensive rebounds. The last came when DeBose forced a jump ball with 17.5 seconds left, and the arrow was in favor of FGCU to set up Tucker's heroics.
Hinds led a quartet of UMass double-figure scorers with 15 points, while Clark and Seth Berger each had 14 and Davis added 13 as the Minutemen dropped their third-straight game.
In his third year at the helm of the Eagles, Dooley won his 50th game, moving his career record with the Green and Blue to 50-28 as FGCU has now defeated UMass each of the past two years.
FGCU is now 5-1 at home this year and 48-8 at Alico Arena dating back to the 2012-13 season. The Eagles face another stern test when they host South Dakota State on Saturday, Dec. 19, at5 p.m. The Jackrabbits are 9-1 so far this year and return most of their team which went to the NIT last year and finished 24-11.
Entering Sunday, UMass had an official RPI of 137, while South Dakota State was 92. Both of FGCU's next two opponents after SDSU are even higher ranked as Louisiana Tech (Dec. 22 at home) was 63 and South Dakota (Dec. 28 in Sioux Falls) was 87. The Eagles, who startedSunday with an RPI of 166, will likely jump into the top 150 on Monday and have several opportunities over the next couple weeks to climb even higher heading into the start of conference play in January.