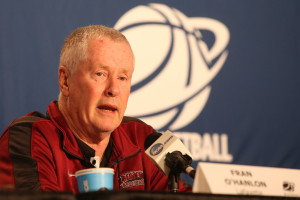 Courtesy of GoLeopards.com
EASTON, Pa. – Senior co-captain Bryce Scott scored his 1,000th career point and sophomore Matt Klinewski added his first career double-double, but the Lafayette men's basketball team fell at home in overtime on Wednesday evening to Fairleigh Dickinson by a 91-89 final.
Entering the game needing 20 points to become the 42nd 1,000-point scorer in Lafayette program history, Scott came on in the second half and overtime, scoring 14 of his 22 points in the final 25 minutes of the game to get over the hump.
"I'm very honored to be on that list of all the great players that have come before me," Scott said. "It comes down to being on an unselfish team and having a coach that trusts me. I'm just very grateful to be a part of this program."
The senior went 5-of-8 from the field, including 4-of-7 from three-point range, and hit on all eight of his free-throw attempts to go along with five rebounds, three assists and two steals on his historic night.
While junior co-captain Nick Lindner led the way in scoring with a game-high 24 points, Klinewski was the other story for the Leopards, dropping 15 points and corralling 16 rebounds in a dominant effort. The sophomore went 4-of-8 from the field and 7-for-11 from the foul line.
"Last year I was behind Dan [Trist] and Seth [Hinrichs] just learning the ropes. This year I get to step up and be productive," Klinewski said. "I've been able to do some things offensively and my teammates are finding me."
Lafayette as a unit went 26-for-62 from the floor (41.9%) and 11-for-31 from three-point range on the night (35.5%). The Leopards converted 26-of-34 free-throw attempts (76.5%), but committed a season-high 23 turnovers compared to 15 assists.
Yet, even with all those turnovers, the Maroon and White had their chances down the stretch in both regulation and overtime to pull out a victory.
With 14.8 seconds left in the second half and Lafayette clinging to a 73-72 lead, Klinewski went to the free-throw line for a pair. He converted on one-of-two and on FDU's final possession, Tyrone O'Garro was able to come through with a put-back bucket off a missed jumper to tie the game at 74 with three seconds to play. The Leopards hustled down the court and an open look from Lindner banked off the backboard and clanged off the front of the rim to send the game into overtime.
FDU took control early in the overtime session as a three from Potts, Jr. at the three-minute mark put the Knights up four, 81-77. However, Scott came back with a huge three in the left corner on the ensuing possession to make it 81-80 with 2:30 remaining.
Unfortunately, four turnovers in that final two minute stretch would prove to be the difference in the game. Even with those mistakes, Klinewski's layup with seven seconds on the clock made it a one-point game at 90-89, and one-of-two from the line by Darian Anderson gave Lafayette a chance with four seconds on the clock.
"Our main focus was to try to get it to Bryce," Klinewski said. "I couldn't get him the ball and Eric was our second option. He didn't really have a running start, so I took off, knew there was about a second left and I had to get it up and, unfortunately, it didn't happen."
Klinewski's three from the left wing fell just short off the front of the rim, ending the game with a 91-89 final.
Junior Monty Boykins was stellar for the Leopards offensively, adding a career-high 18 points as the fourth Leopard in double-figures to join Lindner, Scott and Klinewski. Boykins connected on four three's in big-time spots throughout the game, going 6-for-13 from the field and hitting on two of his three free-throw attempts.
Lafayette has one more game on the slate before the finals break, traveling to Sacred Heart on Saturday for a 3:30 p.m. matchup with the Pioneers.