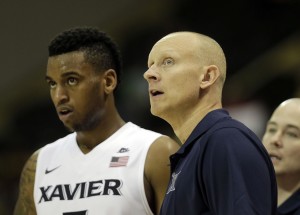 Courtesy of GoXavier.com
CINCINNATI — Xavier University sophomore guard Trevon Bluiett has been named to the BIG EAST Conference Weekly Honor Roll for the third straight week. Bluiett earned the honor this week after leading No. 12 Xavier in its 95-64 win over Western Kentucky on Dec. 5 with a career-high tying 21 points to go with 10 rebounds. Both totals were game highs.
Bluiett leads Xavier in scoring at 15.1 ppg., which ranks ninth in the BIG EAST Conference, and 3-point field goals made, which is tied for second in the BIG EAST at 2.5 mpg. Bluiett is second on the team and seventh in the BIG EAST in rebounding at 7.8 rpg. He has scored in double figures in every game this season.
Xavier, 8-0, hosts Wright State on Tuesday night at 7 p.m. at Cintas Center. Tickets are available at GoXavier.com or through the Xavier Athletic Ticket Office.