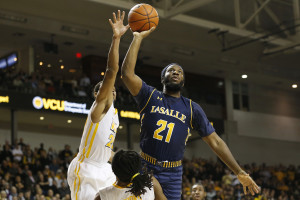 Courtesy of GoExplorers.com
PHILADELPHIA – La Salle redshirt junior guard Jordan Price (Decatur, Ga. / SW DeKalb / Auburn) has been named the Philadelphia Big 5 Player of the Week, it was announced today. Price averaged 28.0 points, 5.5 rebounds, and 3.0 assists per game in two contests for the Explorers.
He scored a career-high 37 points, including 24 in the second half, against Hofstra and shot 15-of-22 from the floor. The 37 points were the most by an Explorer in a single game since Steve Smith's 41 points on December 18, 2005 at Central Connecticut State.
Against Drexel, Price scored 19 points and had four rebounds.
The Decatur, Ga. native shot 19-for-36 (.528) from the field for the week. He is currently second nationally in scoring at 25.9 ppg. and ninth in three-point field goals per game (3.86).
La Salle returns to the court on Sunday at Villanova. The game tips off at 5 PM and will be broadcast nationally on Fox Sports 1.