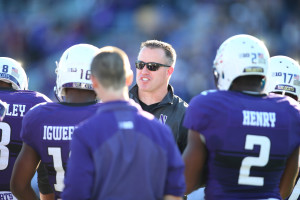 Courtesy of NUSports.com
EVANSTON, Ill. — 
The Northwestern Wildcats have accepted an invitation to the 2016 Outback Bowl in Tampa, Florida. The Wildcats will match up against a to-be-determined opponent from the Southeastern Conference at
11 a.m. CT
on 
Friday
,

Jan. 1

, at Raymond James Stadium, home of the NFL'

s Tampa Bay Buccaneers. 
"Our entire football family is thrilled for the opportunity to cap the 2015 campaign and kick off 2016 at the Outback Bowl," said head coach Pat Fitzgerald. "We're grateful for the opportunity to take the field one more time in what has been a special season for our student-athletes. The Wildcats last visit to Tampa was one of the most memorable games in Northwestern history, we're looking forward to another unforgettable Outback Bowl on New Year's Day."This is a tremendous honor and opportunity for our student-athletes," said vice president for athletics and recreation Jim Phillips. "Their remarkable accomplishments in the classroom, in the community and in competition, makes the Northwestern family proud each day. Wildcats across the country and around the world look forward to celebrating the New Year together in Tampa at the Outback Bowl."
The Wildcats won five consecutive games to finish the 2015 regular-season at 10-2 and are ranked No. 13 in the current College Football Playoff Rankings. Northwestern last played in the Outback Bowl on Jan. 1, 2010, a 38-35 overtime loss to Auburn.