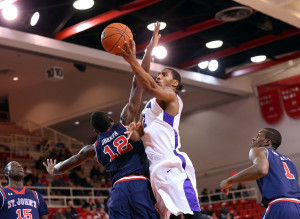 Courtesy of PurpleEagles.com
NIAGARA UNIV., N.Y. – A balanced offensive attack and a gritty defensive performance lifted the Niagara Purple Eagles to a 76-72 victory over the Quinnipiac Bobcats in the MAAC opener on Friday night.
Emile Blackman and Matt Scott each contributed a team-high 20 points for Niagara, becoming the first pair of Purple Eagles to finish with 20+ points in the same game since January 2014. Justin Satchell joined them in double figures with 11 points and chipped in a team-high eight rebounds. Cameron Fowler added eight points and a team-high six assists for the Purple Eagles (3-5, 1-0 MAAC). 
Though Niagara held the lead for 34:14 of the game, compared to Quinnipiac's only leading for 3:06, the Bobcats (2-4, 0-1 MAAC) refused to let NU run away with the contest.
A pair of Scott free throws with 1:26 left gave NU a 70-64 lead, but Quinnipiac's Daniel Harris responded with a three-pointer with 1:20 to get Quinnipiac within three, 70-67. However, with only 31 seconds left and Quinnipiac playing extremely tight defense, Satchell sank a mid-range jumper to extend NU's lead to a two possession advantage and put the Purple Eagles up 72-67. 
Donovan Smith converted two free throws to put Quinnipiac behind 72-69 with 15 seconds left, but Marvin Prochet converted two free throws of his own to keep NU in front, 74-69 with 15 ticks remaining. A long-range three-pointer by the Bobcats' Giovanni McLean suddenly cut NU's lead to 74-72, though Blackman iced the game by sinking two free throws with six seconds left to preserve the victory.
The victory marked NU's second ever win over the Bobcats and extended Niagara's home streak over Quinnipiac to two games. The Purple Eagles shot 83.3 percent from the free throw line and shot 50 percent from the three-point line.
The Purple Eagles look to keep the momentum when they host the Monmouth Hawks on Sunday at 2:00 PM in the Gallagher Center. The game will air live on Time Warner Cable SportsChannel and on the Niagara Sports Network via AM 1400 WWWS and PurpleEagles.com/Watch.