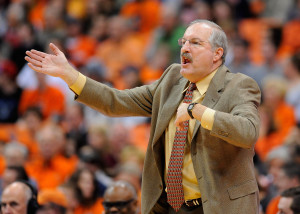 Courtesy of GoGriffs.com
Canisius head men's basketball coach Jim Baron announced today that Spencer Foley (Chicago, Ill.) and Malik Johnson (Chesterfield, Va.) have signed their National Letters of Intent and will join the Golden Griffin men's basketball program for the 2016-17 season.
"We are excited to add both Spencer and Malik to our program here at Canisius," Baron said. "Both of these players will fit right into our up-tempo style of play. Spencer is wing that can really catch-and-shoot in transition. Malik is a really quick point-guard who isn't afraid to push it up the floor and he can really distribute the basketball."
Foley is a 6-foot-6, 185 pound shooting guard, is the first player from Commonwealth Academy in Springfield, Mass., to sign a National Letter of Intent with a Division I basketball program. In 2014-15, Foley earned first-team all-state Class AA honors in Illinois after he helped lead Uplift Community High School in Chicago to a Class AA state championship. An all-city honoree at Uplift Community, he averaged 14.5 points, 5.0 rebounds and 2.0 assists per game for the Titans. Prior to playing at Uplift Community, he had two varsity seasons at Northside College Prep in Chicago, where he posted more than 1,000-career points, highlighted by his 29 points per game during his junior campaign. He is currently serving a postgraduate year at Commonwealth Academy, where he plays for head coach Tony Bergeron.
Johnson is a 5-foot-10, 155-pound guard from the Blue Ridge School in St. George, Va. Johnson averaged a team-best 12.8 points, 5.2 assists, 3.4 rebounds and 2.8 steals per game for the Barons in 2014-15. He helped lead Blue Ridge to a Virginia Independent Schools Athletic Association (VISAA) Division 2 state championship, and he was personally named the VISAA Division 2 Player of the Year. He is one of two seniors from this year's Blue Ridge roster to sign a Division I National Letter of Intent, and his older brother, Robert, is currently a sophomore with the Indiana men's basketball program.
The Canisius men's basketball team is 2-2 on the season after the Blue and Gold fell to long-time rival St. Bonaventure 77-73 Tuesday night in the Koessler Athletic Center. The Griffs will return to action Saturday, Nov. 28, when the team plays at cross-town rival Buffalo, with tipoff set for 2 p.m.