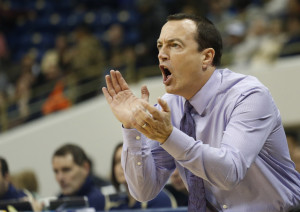 Courtesy of PurpleEagles.com
UNCASVILLE, Conn. – The Niagara Purple Eagles scored seven unanswered points in the final 17 seconds to pull out a thrilling 73-72 win over the North Carolina A&T Aggies in the 2015 Hall of Fame Tip-Off Tournament Springfield Bracket consolation game on Sunday.
"That was a really good team win," head coach Chris Casey said. "We made plays down the stretch and had some really good moments of playing together, with ball movement on offense and defending as a team. We made plays when we had to, so I'm proud of our guys."
Niagara had possession trailing 72-66 with 35 seconds remaining to start its rally. An Emile Blackman put back layup cut the lead to 72-68 with 17 seconds on the clock. After committing their sixth team foul with 12 seconds left on the clock, Niagara then forced a five-second call on the ensuing inbound to get the ball back.
On that next possession, an inbound pass by Matt Scott found Justin Satchell under the basket, and the Miami native scored a layup while being fouled.  Satchell calmly converted the 3-point play at the free-throw line to bring NU within a point trailing 72-71.
The defense made another stop on the next possession as A&T's Sam Hunt stepped out of bounds in the backcourt with nine seconds remaining. On NU's final possession, Scott recorded his career-high seventh assist when he found Marvin Prochet on the block and the freshman scored over a defender while being fouled to put the Purple Eagles ahead, 73-72, with two seconds remaining. Prochet intentionally missed the free throw which didn't allow A&T (0-5) to get off a shot as time expired.
"We were down, so we needed points and we felt like driving the ball was going to help us get contact fouls and get to the line, which we did," Casey said about the final seconds.  "The other thing was they weren't in the one-and-one yet, because we did a good job of guarding without fouling. We were three fouls shy of putting them in one-and-one, so we had to press and foul them to get to the foul line which never materialized because we got some turnovers to help us win the game. At the end, we got the ball in Matt's hands and he made an unselfish play, and found Marvin who had a really good finish."
Niagara trailed for most of the second half, but did control most of the first half. A jumper by Romero Collier gave NU its largest lead of the game, 28-14, with 8:51 left in the half. However, the Purple Eagles' lead was cut to 37-36 at halftime after the Aggies went on an 18-6 run in the last 6:34 of the first half. A&T carried over the momentum into the second half and later had its largest lead at 61-54 with six minutes left.
Four Purple Eagles were in double figures led by Blackman's 18 points.  Blackman also grabbed a team-high eight rebounds. Prochet had 14 points and five rebounds, Justin Satchell had 13 points and seven rebounds, and Scott added 11 points, seven assists and five steals.
The Purple Eagles continue their road trip on Tuesday when they face the Hartford Hawks at 7 p.m.