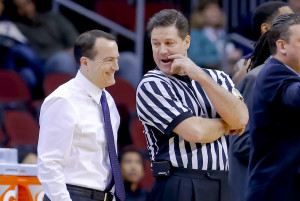 Courtesy of PurpleEagles.com
UNCASVILLE, Conn. –The Niagara Purple Eagles were unable to overcome an early deficit despite a strong finish to the first half as they fell to the Vermont Catamounts, 85-67,  in the Hall of Fame Tip-Off Tournament Springfield Bracket Semifinals on Saturday afternoon.
Matt Scott continued his excellent play to the start of the season. Scott scored 18 points to share team-high honors with Emile Blackman, and had a team-high seven rebounds to lead the team in scoring and rebounding for the fourth straight game.  Scott also had three assists and two steals.
Vermont's 3-point shooting and free throws were the difference. The Catamounts, who had all five starters in double figures, converted 19 of 21 free throws and shot 47 percent (8-for-17) from behind the 3-point line, while NU shot 66 percent from the free-throw line and made only three 3-pointers.
"We've got to make a few shots," head coach Chris Casey said. "I thought we had some good looks at the basket and against a team like that you have to keep up. We are still finding our way and there is no other group that I want to find our way with then these guys."
Niagara (1-3) had its lone lead of the game 57 seconds into the contest on a Justin Satchell 3-pointer for a 3-2 lead. Vermont (2-2) followed with a 20-2 run, including scoring 16 straight points. From there, the Purple Eagles outscored Vermont 30-16 in the final12:06 of the half. Scott started the run by converting a 3-point play and it was capped off by a 3-pointer by Blackman at the buzzer as NU trailed 36-35 at halftime.
The Catamounts regained the momentum by starting the second half on 12-4 run to lead 48-39 with 15:52 left. The Purple Eagles trimmed the lead to five points on a layup by Dominic Robb with ten minutes; however, NU was unable to get any close as Vermont maintained at least a 10-point lead in the final eight minutes.
The Purple Eagles will play in the consolation game of the Springfield Bracket on Sunday at 2:30 pm against either Buffalo or North Carolina A&T. The game will be broadcast on ESPN3 and on the Niagara Sports Network via WGR 550 AM and www.PurpleEagles.com/Watch.