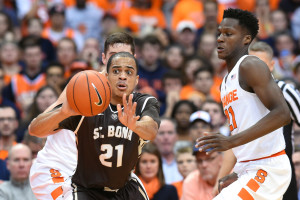 Courtesy of GoBonnies.com
Time Warner Cable SportsChannel, the Atlantic 10 Conference and St. Bonaventure have announced that eight Bonnies men's basketball games this season will be televised on Time Warner Cable SportsChannel.
Seven of the games will be at St. Bonaventure's Reilly Center. That schedule includes four non-conference games starting on Dec. 5 (Ohio) and continuing that month with games against Vermont (Dec. 8), South Carolina State (Dec. 19) and Niagara (Dec. 30). TSCSC will also televise three of the Bonnies' home Atlantic 10 games: Rhode Island (Jan. 13), George Washington (Feb. 13) and Duquesne (Feb. 24). All seven of those games will also be streamed for free via the Atlantic 10 Digital Network outside of New York State.
In addition, the Bonnies' game at Siena on Dec. 22 will also air on TWCSC.
These additional games on Time Warner Cable SportsChannel give St. Bonaventure a total of 18 televised games this year.
The Time Warner Cable SportsChannels are 24/7 networks that carry distinct, comprehensive local sports programming on different channels across the nation. Time Warner Cable SportsChannel in New York provides coverage of Syracuse University athletics, New York State Public High School Athletic Association (NYSPHSAA) games and other local collegiate and professional teams all year long, giving fans in-depth analysis of and access to their favorite teams. Time Warner Cable SportsChannel is available in HD on channel 323 across New York State exclusively to Time Warner Cable customers. For more information, visitwww.twcsportschannel.com and follow the network on Twitter at @TWCSportsNY.