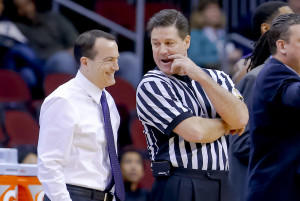 Courtesy of NiagaraPurpleEagles.com
NIAGARA UNIV., N.Y. – Matt Scott recorded 23 points, 10 rebounds, five assists, two blocks and two steals in a tremendous all-around effort to lead the Niagara Purple Eagles over the Brown University Bears, 75-66, in the home opener at the Gallagher Center on Wednesday night.
Scott led the Purple Eagles (1-2) in scoring and in rebounding for the third consecutive game en route to picking up his first career double-double while matching his career-high point total. Junior forward Justin Satchell notched a season-high 17 points and eight rebounds, and Emile Blackman chipped in 11 points to round out NU's scoring leaders. Cameron Fowler led the game with a career-high seven assists to go along with season-highs in points with eight and in steals with three.
After trailing 18-17 at the 9:27 mark of the first half, Niagara finished the half on a 21-12 run to take a 38-30 halftime lead. A layup by Scott a minute into the half push NU's lead to 40-30 before Brown (1-2) went on a 12-4 to cut the lead to 44-42 with 16 minutes remaining. However, it would be the close the Browns would get as Niagara, which held the lead for 35:40 of the game, never relinquished the lead in the second half.
The Purple Eagles' 75 points scored a season-high while their 66 points allowed are a season-low. NU shot 47.2 percent from the field and held to Brown 30.7 percent, outrebounded the Bears 44-43, and more than doubled Brown's blocked shot total, seven to three.
Niagara travels to Uncasville, Connecticut to take on Vermont on Saturday at 5:00 pm as part of the Hall of Fame Tip-Off Classic. The game will be broadcasted on ESPN3 and on the Niagara Sports Network via AM 1400 WWWS andwww.PurpleEagles.com/Watch