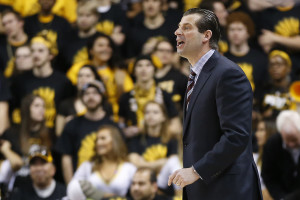 Compiled by PAUL GOTHAM
Counting down to tipoff and previewing the incoming players of the Atlantic 10 with a look at the first-year players of the University of Massachusetts Minutemen.
UMass finished 17-15 (10-8 in A-10 play) last season and fell to La Salle in the second round of the conference tournament.
Derek Kellogg and his staff will welcome four players to the lineup: Malik Hines,  Rashaan Holloway, Luwane Pipkins and Antwan Space. 
Malik Hines Fr. F 6-9, 240 Jackson, Miss./Murrah
Attended Murrah High School in Jackson, Miss., and the Life Center Academy in Burlington, N.J., for his senior year after he studied and competed at Cordia High School in Hazard, Ky. … Received interest from Kentucky, Louisville, LSU and Ohio State, among others … Was a third team Clarion-Ledger All-Metro selection in 2013, when he averaged 15 points and nine rebounds per game during his junior season with the Mustangs.
Rashaan Holloway Fr. C 6-10, 280 Elmer, N.J./Schalick
A three-star recruit according to ESPN ranked as No. 7 recruit from New Jersey, No. 38 at center and No. 42 in his region … Also held offers from Delaware, Drexel, La Salle, Marshall, Rider, Seton Hall and Temple.
What they're saying about Rashaan Holloway – Allen Rubin/Hoop Scoop: "A big body, tough low-post player. He has good footwork inside and can finish with either hand. A good rebounder and good shot blocker. If he keeps his weight down and stays in shaper, he has the potential to be an all-conference center."
Steve Keller/National Recruiting Report: "He's big and has a very good skill set. He has a chance to be good for them."
Jay Gomes/NJHoops.com : "He's really big, strong kid. He's come along with his ability to score in the post. He's going to be a big guy who clogs the lane, protects the rim and scores a little bit around the basket."
Luwane Pipkins Fr. G 5-10, 165 Chicago, Ill./Bogan
Three-star recruit from Chicago's Bogan High School … A four-star recruit according to ESPN and listed as a three-star player with a grade of 88 by 247Sports … The No. 7 recruit in the state of Illinois via ESPN, No. 22 at point guard and No. 23 in his region … Ranked as the No. 9 recruit in the state and 41st at the point guard position by 247Sports … Associated Press 3A all-state selection in 2015 … Mac Irvin Fire's leading scorer at 19.7 points, along with 3.0 rebounds and 2.3 assists per game, during 2014 Nike EYBL Session 1 … Held offers from Bradley, DePaul, La Salle, Northern Illinois, UIC and Valparaiso and also drew interest from Crieghton, Florida State, Illinois, Iowa, Minnesota, Tennessee and West Virginia.
Antwan Space GS F 6-9, 23235 DeSoto, Tex./DeSoto/transfer Texas A&M
2015-16 – Graduate Student: Enrolled at UMass during the Summer 2015 and has one year of eligibility remaining after he earned his undergraduate degree from Texas A&M in May 2015 … Is eligible to play immediately.
2014-15 – Junior (Texas A&M): Played in 21 games, started twice and averaged 12.4 minutes per game … Tallied 4.2 points (89) and 2.9 rebounds (60) during the season … Also collected nine blocked shots, six assists and four steals … Shot 46.5 percent from the field … Scored a career-high 16 points during a season-opening victory over Northwestern State (11/14) … Pulled down nine rebounds against Dayton (11/20) in the opening game of the Puerto Rico Tip-Off … Came off the bench to make 4-of-8 and score nine points against Kansas State (12/20) … Made back-to-back starts at Alabama (1/6) and at home against Kentucky (1/10) … Played a season-high 32 minutes against the Wildcats while tying his career high with three blocks.
2013-14 – Sophomore (Texas A&M): Played in 34 games with 22 starts during his debut season at Texas A&M … Averaged 23.3 minutes per game while shooting 40.7 percent for the season … Finished the year with 216 points (6.4 per game) and 159 rebounds (4.7 per game) … Also notched 28 assists, 17 blocked shots and 16 steals … Narrowly missed a double-double during his first game as an Aggie, scoring 11 points to go along with eight rebounds vs. Buffalo (11/8) … Recorded eight points with six rebounds against Mississippi Valley State (11/11) … Totaled 12 points on 3-of-5 shooting from the floor and a 6-of-8 free throw mark against Prairie View A&M (11/19) … Led Texas A&M during the win over Sam Houston State (11/25) with 12 points and nine rebounds … Paced the Aggies with eight rebounds against McNeese State (12/14) … Hit the game-winning 3-pointer with 4.4 seconds left during a one-point Aggie win at Tennessee (1/11) … Made his only two field goal attempts vs. the Vols, both from beyond the 3-point arc after not playing in the first half … Returned to the starting lineup at South Carolina (1/29) and contributed seven points with three rebounds … Pulled down a career-best 13 boards against Alabama (2/20) … Emerged as the hero for the second time vs. Tennessee, hitting a game-winning 3-pointer with 2.4 seconds left in a 68-65 overtime win on Feb. 22 … Also pulled down a team-high seven boards versus the Vols … Provided 12 points on 5-of-12 shooting during the second-round match-up against Missouri at the SEC Tournament (3/13) … Collected his first career double-double against Wyoming (3/19) as he finished with 11 points and 11 rebounds … Led the Aggies in scoring with a season-high 15 points at Illinois State (3/24) during the second round of the CBI to close the season with three straight double-digit scoring games.
2012-13 – Redshirt-Freshman (Texas A&M): Redshirted the season as per NCAA Transfer Policy … Chose A&M over Texas, Florida, Oklahoma State and Arkansas following his decision to transfer from Florida State.
2011-12 – Freshman (Florida State): Transferred to Texas A&M during the spring of 2012 after playing one season of basketball at Florida State … Suffered an early season injury as a freshman at FSU that limited him to only 10 games during the 2011-12 campaign … Was a member of the Seminoles' first-ever ACC Championship Team … Scored seven points and pulled down seven rebounds during 30 total minutes … Made his collegiate debut at Florida on Dec. 22.
Before College: Consensus four-star recruit, who was rated as the No. 18 small forward nationally by ESPN.com and a national top-100 recruit out of DeSoto High School … Averaged 17.4 points, 11.2 rebounds, 3.5 assists and 1.5 blocks as a senior … Led the Eagles to a 36-4 record and a trip to the regional finals as a senior in 2010-11 … Named first-team all-state and District 11-5A MVP that season … Helped lead DHS to the 2009 5A state championship … Played AAU ball with the DFW Elite … Was also recruited by Arkansas, Florida, Gonzaga, Maryland and Missouri in addition to Florida State.
What they're saying about Antwan Space – Sam Lowe/Great American Shootout: "He's a paint player with a pretty good body on him. He's filled out pretty good. He's a nice guy around the rim, finishes strong and moves well. He rebounds outside of his space. He'll grab loose rebounds, block some shots, runs the floor pretty well. He's a pretty athletic big man who can move, not a plodder who stands in front of the rim. Strength was an issue when he got to A&M, but he filled out."