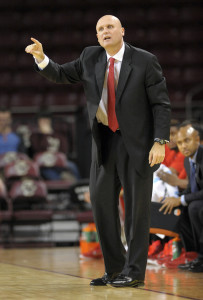 Compiled by PAUL GOTHAM
Counting down to tipoff and previewing the incoming players of the MAAC with a look at the first-year players of the Marist Red Foxes. Marist finished last season 7-25 (5-15 in MAAC play) and fell to Manhattan in the MAAC quarterfinals.
Mike Maker and his staff welcome seven freshmen to the lineup: Courtney Clyburn, Kyle Daugherty, Ryan Funk, David Knudsen, Isaiah Lamb, Kristinn Palsson and Brian Parker. 
Courtney Clyburn Fr. G 6-4, 180 Rochester, N.Y./Trinity-Pawling
What they're saying about Courtney Clyburn – Chris Cardon/Head Coach West Irondequoit High School: "Coached against Courtney for three years. He always brought his best against us. Courtney was a very talented, athletic player. He could score in many ways including going to the basket, on the break and on the glass. During his senior year at Brighton, Courtney was even more dangerous as he improved his jumper. Courtney played with a tremendous will to win. This combined with his outstanding athletic ability made Courtney a real challenge to play against."
Kyle Daugherty Fr. G Reno, Nev./Phillips Exeter
Ryan Funk Fr. G/F 6-5, 195 Clarence, N.Y./St. Thomas More Prep
Funk is highly regarded as a quality three-point shooter who also possesses good athleticism. In his post-graduate season of 2014-15, he helped lead St. Thomas More Prep to the finals of the New England Preparatory School Athletic Council (NEPSAC) Tournament and the semifinals of the National Prep Championship. He was the team's third-leading scorer, averaging close to 14 points per game.
Funk is ranked 11th in the Connecticut Class of 2015. He is one of seven St. Thomas More Prep players from the Class of 2015 to accept a full scholarship. St. Thomas More Prep is coached by Jere Quinn, who also coached former Red Fox Ben Farmer, who played at Marist from 2004-08. Funk previously played scholastically at Clarence High School in western New York.
David Knudsen Fr. G 6-4, 190 Copenhagen, Denmark/Falkonergardens
A versatile talent who performed well playing for Vaerlose BBK in Denmark's top league in the 2014-15 season. He averaged 13.4 points, 3.4 rebounds, 1.8 assists and 1.7 steals per game.
Knudsen is a shooter who converted over 45 percent of his field goals, 35 percent of his three-pointers and 83 percent of his free throws. He is considered a balanced offensive player who is also tough defensively and competitive.
Isaiah Lamb Fr. G/F 6-5, 205 Baltimore, Md./Dulaney
As a senior, Lamb averaged 25 points, 12 rebounds and five assists per game. His season was curtailed due to a knee injury suffered on Jan. 16. In his junior season, Lamb was named First Team All-Baltimore County, and led Dulaney to the 4A North Region finals. He averaged 17.2 points, 10.6 rebounds, 4.1 assists and 3.3 steals per game.
Lamb was one of the subjects of an October 2014 Sports Illustrated story on homeless athletes.
What they're saying about Isaiah Lamb – Jamie Shaw/Phenom Hoop Report: "Lamb is a power wing out of the DC area. He shoots it well with good range is very strong and sturdy going to the rim. Make sure to also read the Sports Illustrated cover story."
Marcus Helton/DMV Elite: "He was having a breakout season as a senior then he had an injury. I've seen some videos of him. It looks like he's back. He's recovered nicely and will be able to play. He's a really, really explosive – a great athlete, a high-major athlete. He's really developed over the last couple of years. He's had two knee injuries that he's came back from. He's a really great athlete now. That just tells you what he was before. He will really help Marist."
Steve Keller/National Recruiting Report: "He is a pretty good 2-3 guard. He can handle, make plays with some size."
Kristinn Palsson Fr. G/F 6-6, 200 Reykanesbear, Iceland/Marymount
Palsson has size and versatility for his position, and has gained a wealth of international experience. In the 2014-15 season, he shined at the U-18 FIBA European Championships, as he averaged 18.2 points, 7.7 rebounds, 2.9 assists and 1.7 steals per game.
Palsson also displayed good shooting ability. He converted over 43 percent of his field-goal attempts, shot over 46 percent on three-pointers, and knocked down over 79 percent of his free throws. Among all players at the championships, he ranked in the top five in free-throw percentage (third), three-pointers made (fourth) and points per game (fifth).
Palsson was selected to play in the 2015 FIBA European U18 All-Star Game.
Brian Parker Fr. G 6-2, 195 Cleveland, Oh./ Villa Angela St. Joseph's
The first recruit signed by head coach Mike Maker, Parker committed to the Red Foxes in the fall of 2014. He was named Northeast Lakes Region Division III Player of the Year in Ohio, Associated Press Division III Co-Player of the Year, and North Coast League-White Division Player of the Year as a junior. He helped lead his team to the Division III state championship game. Parker is a tough, strong guard who has the ability to play multiple positions. A left-hander, Parker is a solid all-around player who has a great feel for the game.
Villa Angela St. Joseph's has produced such athletes as London Fletcher, Mike Golic, Desmond Howard and Clark Kellogg. Parker's father, Brian Parker, was a standout at Cleveland State and the Vikings' leading scorer in the 1989-90 season.
What they're saying about Brian Parker – Steve Keller/National Recruiting Report: "He looks like a linebacker. He's physical and strong. He powers inside and makes plays. Some people didn't like him because they thought he was more a football player. He can play the point because he can handle really well. He does have the skills and talent."
Chris Johnson/Hoop Scoop: "When you first see him, you think he's an outside linebacker or defensive end. He doesn't look like a basketball player. He's quick for his size but not explosive. He can be exploited in mismatches because of his physical limitations, but also he creates problems. He's better at defending threes and fours than he is ones and twos. But also when he's defended by guards, he has a great ability to post guards inside. He's a total matchup problem. The kid is a winner. His AAU program won. His high school won several state titles. He just has to define his position."