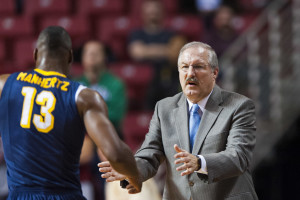 Courtesy of GoGriffs.com
The Canisius athletic department announced today that the men's basketball home game against Quinnipiac will now be played on Saturday, Dec. 5, 2015 instead of the previously listed date of Sunday, Dec. 6. Game time on Dec. 5 in the Koessler Athletic Center is set for 7 p.m.
The MAAC game has been moved off the original Sunday date to avoid a conflict with the Buffalo Bills home game against the Houston Texans, which is scheduled to kickoff at 1 p.m. at Ralph Wilson Stadium.
By playing on Dec. 5, the Golden Griffins and the Bobcats will now be scheduled to play two league games on back-to-back dates. Canisius will host Monmouth on Friday, Dec. 4, in the Koessler Athletic Center, while Quinnipiac will play at Niagara Dec. 4. This will mark the first time in program history where the Griffs are set to play regular-season MAAC games on consecutive days.