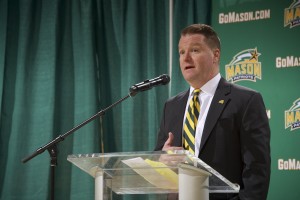 Compiled by Paul Gotham
Counting down to tipoff and previewing the incoming players of the Atlantic 10 with a look at the first-year players of the George Mason Patriots.
George Mason finished 9-22 (4-14 in A-10 play) last season and fell to Fordham in the opening round of the conference tournament. First-year coach Dave Paulsen welcomes six freshmen to the lineup: DeAndre Abram, Danny Dixon, Jaire Grayer, Otis Livingston II, Kameron Murrell and Daniel Relvao. 
DeAndre Abram Fr. G 6-7, 182 Carrolltown, Tex./Creekview
2015 District 11-5A Offensive Player of the Year…Named All-Region 2-5A and Team MVP after helping lead Creekview to its first playoff win in 12 years…Averaged 16.9 points per game…Scored a career-high 29 points in December against McKinney…Less than a month later hit two triples, including the game-winner at the buzzer, to defeat crosstown rival Carrollton Newman Smith…Team captain junior season…Named First Team All-District 10-4A and Co-MVP…Twice-named Student of the Week at Creekview…Earned the Crimson Honor for Junior Representative for PTSA twice.
What they're saying about DeAndre Abram – Sam Lowe/Great American Shootout: "He's a late bloomer. He kinda exploded on the recruiting scene his senior year. He can shoot it, slash and get to the rim and finish around the goal. He's probably a little lean still and needs to put on some weight. A couple years of maturing as a player, and he could be pretty good."
Danny Dixon Fr. F 6-10, 215 Grosse Pointe Park, Mich./Grosse Pointe South
A multi-sport athlete at Grosse Pointe South High School…Averaged 19.0 points per game, 11.0 rebounds per game and 4.0 blocks per game in 2014…Shot 56.0 percent from the field and 72.0 percent at the free throw line…2014 Recreational Debut All-Tournament Team member…Also tabbed 2014 Detroit Free Press All-East First Team and McDonalds All-American nominee…Voted 2014 Most Valuable Player…2013 Best Defensive Player at Grosse Pointe South…Member of National Honor Society…Earned a spot on the All-Conference Academic Team in 2014…Attended the IMG Academy Post Graduate program last season where he averaged 9.0 points per game and 8.0 assists per game…Posted highs of 19 points versus Montverde Post Grad and 12 rebounds versus Impact Academy.
What they're saying about Danny Dixon – Steve Schwanda/All Eyes on Hoops: "Super long and lanky athlete who runs the floor well. Has a good feel for the game and finishes well with either hand around the rim, maybe a red shirt year to add some weight but should be able to contribute."
Jaire Grayer Fr. G 6-4, 187 Flint, Mich. (IMG Academy)
Attended Flint Southwestern Classical Academy in Michigan before attending IMG Academy last year…Tabbed to The Associated Press' All-State First Team at Southwestern after averaging 16 points, 13 rebounds, 4.3 blocks, 4 assists and 3.3 steals per game…Posted 15 points, 7 rebounds and 4 assists per game at IMG Academy.


Otis Livingston II Fr. G 5-11, 162 Linden, N.J./Linden
Averaged 17.0 points per game, 7.0 assists per game and 3.0 steals per game as a senior captain…Recognized as the 2015 Home News Tribune Player of the Year…2015 First Team All-State, First Team All-Union County and Second Team All-Metro…Recorded season-highs of 36 points, 15 assists, 11 rebounds and eight steals his senior season…Named NJ Player of the Week during the season leading to a Union County Championship…Averaged 11.0 points per game and 5.0 assists per game as a junior…Recorded season-bests of 28 points, 12 assists and eight steals while helping the Tigers to a state title…Tabbed 2014 Second Team All-State, Second Team All-County and Honorable Mention All-Metro.,,National Honor Society member…Earned New Jersey Connecticut Bridgeport Classic Scholar Athlete Award in 2015.
What they're saying about Otis Livingston II – Allen Rubin/Hoop Scoop: "He's a good, quick point guard who comes from a very good high school program. Smart player. He makes his teammates better. A pesky defender who is very good in transition."
Steve Keller/National Recruiting Report: "He didn't have any Division I offers until the start of the state tournament his senior year. He's talented and a really gutsy player."
Jay Gomes/NJHoops.com: "Had a really big senior year. A lot of schools under-recruited him basically because of his size, but the kid is a winner. A very good defender who has good quickness. He takes big shots, a confident kid. He is a late pick up for George Mason, and they may have gotten a good one who can help them down the road."
Kameron Murrell Fr. G 6-2, 200 Long Beach, Calif./Long Beach Poly
Graduate of Long Beach Poly High School and attended IMG Academy…Member of 2015 Prep School National Championship Runner-Up squad…Shot 66.0 percent from three-point range…Averaged 16.0 points per game, 6.3 assists per game and 2.1 steals per game last season…Helped Long Beach Poly High School to a 2014 CIF SS Championship and 2011 CIF State Championship…Earned several accolades at Long Beach Poly including First Team All-Freshman, First Team All-Moore League, First Team All-CIF and First Team All-Defense…Averaged 16.3 ppg, 4.7 apg, 2.3 spg and 2.0 rpg in 2014…Attended IMG Academy in 2015.
What they're saying about Kameron Murrell – Steve Keller/National Recruiting Report: "He's an off-guard who can contribute."
Daniel Relvao Fr. F 6-9, 236 Coimbra Portugal/Mountain Mission
Attended Mountain Mission High School his junior and senior seasons…Appeared in 65 games…Averaged 5.9 ppg, 5.1 rpg, 1.6 bpg, 0.6 apg and 0.5 spg as a senior…Posted 5.0 ppg, 4.0 rpg and 1.1 bpg his junior season…Tabbed Most Improved Player following his junior season…Has competed for his home country as a member of the Portuguese National Team for three years.
What they're saying about Daniel Relvao – Jamie Shaw/Phenom Hoop Report: "Relvao is a former Valparaiso commitment. He is raw offensively, however he does have skill. He is a former high caliber swimmer, and uses his 7'4" wing span to be a high level rim protector."
Biographical information courtesy of George Mason athletics.