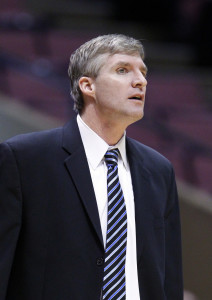 Compiled by PAUL GOTHAM
Counting down to tipoff and previewing the incoming players of the MAAC with a look at the first-year players of the Saint Peter's Peacocks. Saint Peter's finished last season 16-18 (8-12 in MAAC play) and fell to Manhattan in the conference semi-finals.
John Dunne and his staff welcome four freshmen to the lineup: Samuel Idowu, Cameron Jones, Mamadou Ndaiye and Antwon Portley to the lineup.
Samuel Idowu Fr. F 6-7, 219 Brooklyn, N.Y./Lafayette Educational Complex
A two-year letterwinner on the boys basketball team at Lafayette Educational Complex in Brooklyn, N.Y.
Posted 584 points and 455 rebounds in 36 games for the Patriots in the Public School Athletic League.
Averaged 13.2 points and 10.4 rebounds per game as a junior.
Registered 12 double-figure point performances, including three 20-point games, and posted 11 double-digit rebound contests and nine double-doubles in 2013-14.
Averaged 18.8 points and 14.6 rebounds per game in his senior year in league play, posting double figures in points in all 19 games, including eight 20-point contests and a career-high 28 points against Midwood. He also finished in double digits in caroms in 18 of the 19 games and had 18 double-doubles on the year.
Recorded 19 points and a career-best 25 boards against James Madison that started a four-game stretch where he registered at least 19 points and 17 rebounds a game.
Cameron Jones Fr. G 6-3, 210 Fairless Hills, Pa./Pennsbury
A four-year lettterwinner on the Pennsbury boys basketball team.
Helped his squad to an 18-4 regular season team and to the PIAA Quarterfinals.
Averaged 21.0 points, 7.0 rebounds and 7.0 assists per game in the last 10 games of his high school career.
Named the Bucks County Golden Teams Boys Basketball Player of the Year and also earned a spot on the WPIAL All-State third team in 2014 after averaging 17.8 points per game.
Named to the All-South Eastern Pennsylvania fourth team by the Philadelphia Inquirer.
Jones scored his 1,000th career point against Council Rock South on Jan. 8, 2015 and finished his career with 1,290 points.
What they're saying about Cameron Jones – Allen Rubin/Hoop Scoop: "He's a very good outside shooter. As a junior in high school he made 94 threes. As a senior he was moved to point guard where he did a very good job and made 80 threes. He is a good, smart player, high basketball IQ. His father is a former player at La Salle University. He is a crafty slasher who knows how to win."
Steve Keller/National Recruiting Report: "He's a skilled three-guard who can really shoot."
Jay Gomes/NJHoops.com: "He's a really dynamic three-point shooter, a great scorer. He's going to find the floor for Saint Peter's with his ability to shoot the ball."


Mamadou Ndaiye Fr. F 6-7, 210 Laurel, Md./Oakland Mills
A two-year letterwinner at Oakland Mills on the boys basketball team in Maryland after playing his first two seasons at Laurel High School.
Posted 772 points and 408 rebounds while connecting on 281 of his 555 shot attempts (50.6 percent) with Oakland Mills.
Scored 20 points in each of his first six games at Oakland Mills as a junior and finished the season with 21 double-figure performances, including 15 games with at least 20 points and 13 double-doubles.
Notched a career-high 32 points against Long Reach in 2013-14. Averaged 19.1 points, 9.8 rebounds and a Howard County-best 2.2 blocks per game.
Posted 18 double-digit performances, three 20-point games and five double-doubles, including a season-high 26 points against Glenelg.
Averaged 13.6 points and 7.5 rebounds per game to earn a spot on the All-County second team as a senior.
Oakland Mills went 44-8 overall and 33-5 in league play in his two seasons, including winning the 2A Maryland State title in 2014-15.
What they're saying about Mamadou Ndaiye – Jamie Shaw/Phenom Hoop Report: "Ndaiye is a very athletic, very lengthy forward. He stretches his legs in transition and is good for some monster put backs in the half court."
Marcus Helton/DMV Elite: "He had a nice senior year. People had been waiting for him for a couple of years to do what he finally ended up doing his senior year and lead a team to a state championship. He transitioned to a wing. He used to be playing in the post. He's got a nice little mid-range game. He should help Saint Peter's. He's a guy who was really, really highly regarded early on in his career. Some people thought he may be a high major player. That didn't end up happening, but I still think he'll have a solid career.
Antwon Portley Fr.g 6-3, 165 Lancaster, Tex./Lancaster
A four-year letterwinner on the Lancaster boys basketball team in Texas.
Scored 21 points in a 59-47 win against Ozen to power Lancaster to the Texas 5A State title and earned a spot on the University Interscholastic League All-Tournament team.
Named the District 14-5A Co-Offensive Player of the Year and earned a spot on the Texas Association of Basketball Coaches All-Region 2-5A team
Helped his squad to a 34-4 record in 2014-15.
Averaged 16.0 points per game as a senior and connected on 46 percent of his 3-point attempts.
What they're saying about Antwon Portley – Sam Lowe/Great American Shootout: "He's really thin, but he loves to get out and start the break. He's fast. He can pull up in transition and knock down the three. He has length. Though he is thin, he can take some contact and finish around the rim because of his length."
Biographical information courtesy of Saint Peter's athletics.