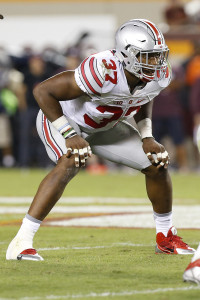 Courtesy of OhioStateBuckeyes.com
COLUMBUS, Ohio – Senior linebacker Joshua Perry has advanced to the next round in a prestigious national award and has been named a candidate for another. Last night, the Club IMPACT Foundation of Newport Beach, Calif., announced that Perry was one of 22 quarterfinalists for the 12th annual Lott IMPACT Trophy; and he was also named by the All Sports Association in Fort Walton Beach., Fla., as a candidate for the Wuerffel Trophy.
The Lott IMPACT Trophy is awarded to college football's top defensive player who exemplifies the best in character and performance. Founded in 2004, the Lott IMPACT Trophy is given to the player who exhibits the same characteristics Ronnie Lott embodied during his distinguished career: athletic ability as well as the character attributes of integrity, maturity, performance, academics, community and tenacity.
The Wuerffel Trophy, known as "College Football's Premier Award for Community Service," is named  after 1996 Heisman Trophy winning quarterback Danny Wuerffel, from the University of Florida. The Wuerffel Trophy is awarded to the FBS player who best combines exemplary community service with athletic and academic achievement.
Perry's honors and accolades this season include the following:
Watch list for the Butkus Award;
Watch list for the Bednarik Award;
One of 11 FBS players named to the Allstate AFCA Good Works Team;
One of 30 candidates for the Senior CLASS Award;
Quarterfinalist for the Lott IMPACT Trophy; and
Candidate for the Wuerffel Award.
Perry, who will graduate in December with his degree in consumer and family financial services, is second on the team in tackles with 52, including 4.5 tackles-for-losses totaling 25 yards. Perry is 15th in the Big Ten in total tackles.