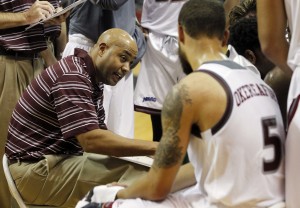 Compiled by PAUL GOTHAM
Counting down to tipoff and previewing the incoming players of the MAAC with a look at the first-year players of the Rider Broncs. Rider finished last season 21-12 (15-5 in MAAC play) and fell to Loyola (CHI) in the first round of the CBI Tournament.
Kevin Baggett and his staff welcome three players to the lineup: Kealen Ives, Lacey James and Josh Williams. 
Kealen Ives Fr. G 5-9, 165 Providence, R.I/Putnam Science
McDonald's All-American nominee…First Team All-Central Division…graduated as Classical's all-time leader in scoring (1,680)…named to Providence Journal All-State team…point guard.
What they're saying about Kealen Ives – Steve Keller/National Recruiting Report: "He is a quick, little jet point guard."
Lacey James Fr. F 6-9, 220 Grand Rapids, Mich./Wayland Union
Helped Wayland achieve a 19-4 record where he averaged 20 points and 15 rebounds per game…earned Class B All-State first-team honors and was a candidate for Michigan's Mr. Basketball…following his junior year an abnormal EKG caused him to sit out summer ball, after doctors diagnosed him with a mild condition of hypertrophic cardiomyopathy, otherwise known as an enlarged heart…he was later cleared by doctors and allowed to return to the court…described as "long, athletic, strong mid-range game, moves well and defends, does a lot of things well."
What they're saying about Lacey James – Steve Schwanda/All Eyes on Hoops:  "LJ is one of the most talented players in the 2015 class out of Michigan. After a heart problem gave Detroit a scare and they released him that became Rider's gain. Very skilled who can take taller players off the dribble, but also go inside and score in the paint as well. Can shoot it a little bit as well, and is a fabulous young man. Great get for Rider!"
Josh Williams RFr. G/F 6-6, 195 Trenton N.J./Notre Dame
At St. Thomas More: Helped his 26-8 team reach the National Prep School Championship game in 2013-14, averaging 10.0 points, 7.0 rebounds and 2.5 blocks per game.
At Notre Dame: Averaged 17.5 points, 10.6 rebounds, 5.1 assists, 3.8 blocks and 2.1 steals per game as a senior, leading the Irish to a program-best 24-5 record and a second Mercer County Championship.
What they're saying about Josh Williams – Allen Rubin/Hoop Scoop: "He's a good, athletic wing who gets to the basket and score from mid-range. He's a good defender."
Steve Keller/National Recruiting Report: "He's a kid who has an electric body with plenty of talent. He can explode above the rim."
Jay Gomes/NJHoops.com: "He's an under-recruited kid who is a very good athlete – runs the floor, jumps well. He's the kind of kid who excels in the transition game. He's more of a jack-of-all-trades defender than he is a scorer."