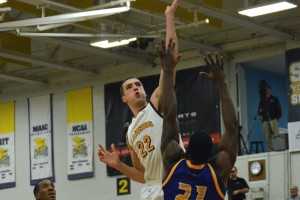 Courtesy of GoGriffs.com
The Metro Atlantic Athletic Conference announced Wednesday evening that Canisius junior forward Phil Valenti has been named to the Preseason All-MAAC Third-Team as part of the league's 2015-16 Preseason Awards Show, which was broadcast live on ESPN3. The preseason All-MAAC teams were voted on by the league's 11 head coaches.
The team's top returning scorer, Valenti posted 9.4 points per game in 24 contests last season. The Victor, N.Y., native was good for 10-plus points in eight different games last year in his sophomore season, and he was leading the offensive charge for the Blue and Gold with 13.5 points per contest in five games from Jan. 16-30 before he went down with an ankle injury that cost him the final nine games of the regular season. Considered to be one of the top passing post players in the MAAC, Valenti averaged 2.4 assists per game last season and he was also good for 4.5 rebounds per outing.
Valenti is joined in the Preseason All-MAAC Third Team by Manhattan's RaShawn Stores, Niagara's Emile Blackman, Rider guard Jimmie Taylor and Siena forward Brett Bisping. Iona senior guard A.J. English was a unanimous choice as the 2015-16 MAAC Preseason Player of the Year.
As a team, Canisius was picked to finish sixth in the MAAC Preseason Coaches Poll. Iona, the league's defending regular-season champion, was picked to win this year's conference title with 119 points. Monmouth was chosen to finish second with 105 points, while Manhattan and Rider were tied for third with 91 points. Siena rounds out the top-five with 84 points, followed by Canisius in sixth (67 points) and Quinnipiac in seventh (49 points). Fairfield (42 points), Saint Peter's (37 points) and Marist (23 points) were chosen to finish eighth through 10th, with Niagara earning 18 points to rank 11th in the conference.
Canisius will play host to a pair of exhibition games, starting Oct. 30 when the Griffs meet Ryerson at 7 p.m., in the Koessler Athletic Center. The Griffs will also play host to Buffalo State Nov. 6 at 7 p.m., before officially opening the 112th season in school history Nov. 13 at Hofstra. Canisius opens its first three-game homestand of the season Monday, Nov. 16, when the squad entertains Lehigh in the 2015-16 home opener. That game will tipoff at 7 p.m.