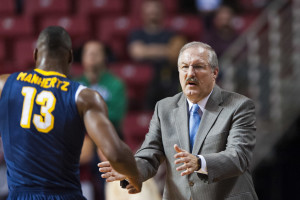 Courtesy of GoGriffs.com
Canisius head men's basketball coach Jim Baron announced today that seniors Kevin Bleeker, Malcolm McMillan and Jamal Reynolds have been selected to serve as team captains for the 2015-16 season.
"These three guys understand what it takes to be a leader for this program, both on and off the court," Baron said. "Kevin has been with me for four years and Jamal and Malcolm have joined us more recently, but they both understand what we're looking for as far as leadership. This is not something that's given out, it is awarded to guys who have proven to be hard workers and quality representatives of this program."
Bleeker, a fifth-year senior who is currently working toward his master's degree in sport administration at Canisius, has played in 80 career games as a Golden Griffin, which is the most among all active players on this year's roster. Last season, the Alkmaar, Netherlands native played in a career-high 33 games where he made 10 starts. He averaged 4.6 points, 4.0 rebounds and 0.9 blocks per game, highlighted by his season-high 16 points in the team's CIT quarterfinal round loss at NJIT.
McMillan joins the Canisius program after earning his undergraduate degree from Central Connecticut State at the end of the 2014-15 academic year. A Baltimore native, McMillan played in 91 career games at Central Connecticut State before his 2014-15 campaign was cut short due to injury. He averaged 7.1 points, 3.6 assists and 3.5 rebounds per game for the Blue Devils, and he also tallied 107 career steals. He is currently working toward his master's degree in sport administration at Canisius.
Reynolds enters his senior season in Canisius Blue and Gold as the team's top returning rebounder after he pulled down 6.6 boards per game last year in his first campaign with the program. A starter in all 33 games last year, Reynolds was good for 7.1 points per game to go with his 6.6 rebounds per outing, which ended up being the best rebounding average for a first-year Canisius player since former Griff Micheal Meeks in the 1992-93 season. He ranked ninth in the MAAC in rebounding average in 2014-15, and his 4.5 defensive rebounds per contest last year ended up placing him 217th in the nation.
Canisius will play host to a pair of exhibition games in the Koessler Athletic Center Oct. 30 vs. Ryerson and Nov. 6 against Buffalo State before opening the 112th season in school history Nov. 13 at Hofstra.