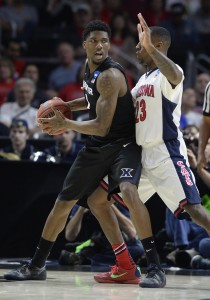 Courtesy of GoXavier.com
NEW YORK —- The Xavier University Musketeers, coming off a 23-14 season that ended in the NCAA Tournament Sweet 16, were picked to finish fourth in the 2015-16 BIG EAST Conference Preseason Coaches Poll. The coaches voted defending champion Villanova as the unanimous preseason favorite. Xavier finished sixth in the BIG EAST regular season and runner-up at the 2015 BIG EAST Championship last season.
Jalen Reynolds, 6-10 junior forward who was a 2015 BIG EAST All-Tournament Team selection, was named to the preseason 2015-16 All-BIG EAST First Team. Reynolds, the team's top returning rebounder at 6.1 rpg., contributed 9.9 ppg. as a sophomore, including 12.0 ppg. for Xavier's six postseason games.
"Jalen has as much potential as any guy I've ever coached," said Xavier head coach Chris Mack. "He's very good around the basket. Jalen improved his consistency down the stretch last season and we need him to carry that improvement over to his junior year. We need him to be a very effective low post presence. He has the ability to face up as well."
Trevon Bluiett, 6-6 sophomore guard who was a 2014-15 BIG EAST Conference All-Rookie Team selection, was named honorable mention preseason All-BIG EAST. Bluiett is XU's leading returning scorer at 11.0 ppg.
Bluiett is one of the three returning starters for the Musketeers. Xavier's two scholarship seniors are the other two returning starters. Mack is hoping for even bigger contributions from 6-4 guard Remy Abell and 6-10 forward James Farr. Abell distinguished himself as one of the BIG EAST's best on-the-ball defenders and Farr is Xavier's second-leading returning rebounder at 5.3 rpg., including 13 in the NCAA Tournament Second Round win over Ole Miss. Abell and Farr are in New York City for BIG EAST Media Day.
Myles Davis, 6-2 junior guard, is one of XU's two returning double-figure scorers at 10.6 ppg. Davis, the top free-throw shooter in the BIG EAST at 87.2 percent, led the team and was in the top 10 in the BIG EAST in 3-point field goals at 1.8 per game. 
The rest of the four-member sophomore class that includes Bluiett is expected to play a major role this season. J.P. Macura, 6-5 guard, had some big moments as a freshman. Larry Austin Jr., 6-2 guard, and Sean O'Mara, 6-10 forward/center, made great strides as the year progressed and have Mack and Musketeer fans hoping for bigger things this season.
The talented three-member freshman class includes two players that practiced with the Musketeers last season. They all have something in common. They are winners that are accustomed to playing championship basketball. Edmond Sumner, 6-5 guard, and Makindé London, 6-10 forward, both had a chance to learn the Xavier system in the 2014-15 season and are eager to contribute in the games this season. London won a National Championship playing for Montverde Academy in Florida in the 2014-15 season. Sumner, an All-State selection from Detroit, Mich., led his Country Day High School team to a state championship. The third freshman is versatile 6-8 forward Kaiser Gates, who led his high school team to back-to-back state championships in Georgia.
Mack will once again challenge the Musketeers with an aggressive non-conference schedule that should prepare the Musketeers well for the rugged round-robin 18-game BIG EAST schedule.  The non-conference slate includes road games at Michigan as part of the inaugural Gavitt Tipoff Games between the BIG EAST and Big Ten Conferences and a restart of the Skip Prosser Classic at Wake Forest. Xavier also plays in the AdvoCare Invitational (formerly the Orlando Classic), which has five 2015 NCAA Tournament teams in this year's field, including XU, Notre Dame, Wichita State, Iowa and Dayton. Xavier's home slate includes games against Cincinnati in the annual Skyline Chili Crosstown Shootout, Missouri, Auburn, Western Kentucky, Miami (Ohio), Northern Kentucky and Wright State.
"We had the second-best league RPI-wise in the country last season," said Mack. "Every game on the BIG EAST schedule is a tough matchup. Villanova is still the team to beat until someone proves otherwise. But you have to be ready every single night."