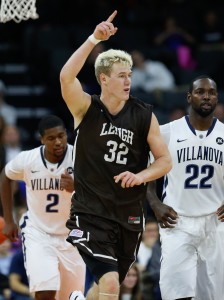 Courtesy of LehighSports.com
BETHLEHEM, Pa. – Lehigh head men's basketball coach Brett Reed announced the team's 2015-16 schedule on Thursday which includes a challenging slate of games. In total, the Mountain Hawks will face four teams coming off NCAA Tournament appearances, eight who advanced to a national postseason tournament and six who reached 20 wins, including one team that won 30 games. Lehigh's nonleague foes went a combined 180-109 (.622 winning percentage) in 2014-15, with 10-of-11 nonleague opponents finishing at least .500.
"The big-picture philosophy of our nonleague schedule is to pair our team against other quality opponents that will test us, challenge us and allow us to grow through meaningful competition," said Lehigh head coach Brett Reed. "This year's schedule will accomplish that task through the quality, the depth and the varying styles of play that we'll face. Because of that depth and variety, I believe our team will come through the nonleague portion of our schedule battle-tested and ready for the rigors of Patriot League play."
The Mountain Hawks open their season on Friday, Nov. 13 at Syracuse inside the historic Carrier Dome. One of the most storied programs in college basketball history, Syracuse won the 2003 National Championship, has made five Final Four appearances (most recently in 2013), nine Elite Eights and 21 Sweet 16s. One of the newest members of the ACC, Syracuse has won all three meetings against Lehigh, the last coming during the 1931-32 season.
Three days after the opener, the Mountain Hawks travel to Canisius to play the Golden Griffins on Nov. 16. Lehigh then returns home on Thursday, Nov. 19 to play host to Yale in its home opener. The Bulldogs are coming off an impressive 22-10 season, including an 11-3 mark in the Ivy League.
Lehigh hits the road for four straight games, beginning with a Nov. 22 showdown at Columbia. The Mountain Hawks then play two power conference and reigning NCAA Tournament teams in a four-day span, beginning on Wednesday, Nov. 25 at Virginia. A No. 2 seed in last year's NCAA Tournament, the Cavaliers finished 30-4. The Cavaliers, who feature one of the nation's top defenses, finished the season ranked eighth nationally in the final USA Today Coaches Poll.
After the challenge at UVA, Lehigh heads to Purdue on Saturday, Nov. 28 to face the Boilermakers. Purdue won 21 games last season to advance to the NCAA Tournament. Lehigh has played Virginia once in its history (1973-74) while this will mark the first-ever game against Purdue.
"Our team will be challenged at a very high level, from nationally-regarded top competition," said Reed. "The inclusion of Virginia, Purdue and Syracuse allows our players to test themselves against some of the most highly-regarded programs in the entire country. Each of these opponents will present challenges that go beyond their potential national ranking. Virginia is highly-regarded as one of the top defensive teams in the entire country. Purdue will bolster a front line of multiple 6-foot-10 or taller players who will attempt to impose a physical Big Ten style on our team. Syracuse will play their historic zone defense that will challenge us due to their defensive length."
After the Purdue game, the Mountain Hawks return to Pennsylvania to play at Saint Francis (Pa.) on Wednesday, Dec. 2. The Red Flash enjoyed a strong season in 2014-15 which featured wins over Rutgers, Duquesne and an appearance in the national College Insider Tournament.
Lehigh returns home on Saturday, Dec. 5, beginning a stretch of four-of-five games in the friendly confines of Stabler Arena. After a break for final exams, the Mountain Hawks travel to Robert Morris on Dec. 17 to face their third NCAA Tournament foe of the season. The Colonials went 20-15 last season, winning the NEC Tournament, and their NCAA Opening Round Game, to advance to the Round of 64.
The Mountain Hawks wrap up nonleague play with home games against Mount St. Mary's (Dec. 19) and Stony Brook (Dec. 22). Stony Brook went 23-12 in 2014-15, finishing second in the America East standings and advancing to the championship game. The Seawolves went on to play in the College Basketball Invitational.
"Most will look at our opponents in the ACC and Big Ten as being our primary challenges," said Reed. "However, there are a number of other very strong programs that we'll be facing across our entire nonleague schedule. For instance, we will be playing five additional opponents that many will regard as being the top team or second-best team in their respective leagues. Because of that, our players will be challenged on a near nightly basis at the highest level to help promote consistency and attention to detail."
Patriot League play begins on Wednesday, Dec. 30 as Lehigh welcomes Army West Point before hosting Boston University on Jan. 2. Lehigh then hits the road for games at Loyola (Jan. 6) and American (Jan. 9) then welcomes Bucknell (Jan. 11). The first round of league play continues at Holy Cross (Jan. 16) followed by a home matchup against Navy (Jan. 20), at Lafayette (Jan. 23) and home vs. Colgate (Jan. 27). Lehigh will then go around the league for a second time, at opposite sites.
"We have consistently seen the quality of basketball in the Patriot League rise to a more nationally-prominent level," said Reed. "Because of that enhancement of basketball on a year in and year out basis, we know there will be significant challenges throughout the entire league schedule. Last year was a great indicator that parity exists. Every game becomes very critical."
Complete ticket and television/broadcast information will be released at a later date. Check back to Lehighsports.com for complete information as the Mountain Hawks prepare for the 2015-16 season.
Lehigh looks to build upon its 2014-15 season which included a 16-14 record, going 10-8 in the Patriot League to earn the #3 seed in the league tournament. After a tough start, the Mountain Hawks made impressive strides as the season progressed, winning seven-of-eight games beginning in mid-January to jump near the top of the league standings. Lehigh defeated a pair of power conference programs in DePaul and Arizona State while finishing 3-3 against teams who made the NCAA Tournament and NIT. The Mountain Hawks return their six leading scorers, including the reigning Patriot League Player and Rookie of the Year (Tim Kempton and Kahron Ross), as excitement around the program continues to rise.
Like Lehigh Men's Basketball on Facebook, follow on Twitter and Instagram for exclusive content, team updates and more.