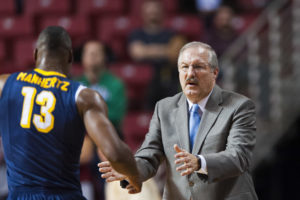 Courtesy of GoGriffs.com
Canisius' 31-game regular-season schedule is now complete with the official release of the 2015-16 Metro Atlantic Athletic Conference slate, which was published by the conference office on Monday. The Golden Griffins will open the regular season Nov. 13, at Hofstra and the Blue and Gold is set to start the MAAC portion of the schedule at home on Friday, Dec. 4, when the Griffs host Monmouth in the Koessler Athletic Center in a rematch from last year's MAAC Championship Quarterfinal.
A full list of game times and the league's broadcast schedule will be made public at a later date. Additionally, the Griffs will play two exhibition games at home prior to the start of the regular season, with opponents and game dates to be announced once contracts are finalized.
Season tickets for the 28-game combined men and women's home schedule can be purchased or renewed by calling the Canisius Ticket Office at (716) 888-2885 between 10 a.m. and 4 p.m., Monday through Friday, or online at GoGriffs.com. Reserved seats cost $200, with general admission season tickets costing $100. Group ticket packages, ticket packs and single-game tickets will go on sale in the near future.
After Canisius plays host to Monmouth on Dec. 4, the team will meet Quinnipiac in the Koessler Athletic Center Sunday, Dec. 6. The Blue and Gold will get back into MAAC action right after the holidays when the team goes on the road to play at Marist (Jan. 2) and Monmouth Jan. 4. Canisius returns home Jan. 7 to host defending MAAC champion Manhattan and then the team will close out its weekend in Buffalo by hosting Saint Peter's on Sunday, Jan. 9, with tipoff set for 2 p.m.
On Tuesday, Jan. 12, the Griffs close out the non-league schedule when the team travels to play at Dartmouth. Canisius closes its regular-season series with Manhattan Jan. 15 in Riverdale, N.Y., before traveling to Hamden, Conn., to meet Quinnipiac on Sunday, Jan. 17.
The first "Battle of the Bridge" series game between Canisius and Niagara will be held on Friday, Jan. 22, when the Griffs travel north on I-190 to meet the Purple Eagles in the Gallagher Center. That game between Canisius and Niagara will be the 177th all-time meeting between the two teams in a series that dates back to 1904. On Sunday, Jan. 24, Canisius hosts its final home contest in the month of January when Siena comes to the Koessler Athletic Center, and the team closes out the first month of the calendar year Jan. 29 at Fairfield and Jan. 31 at Rider.