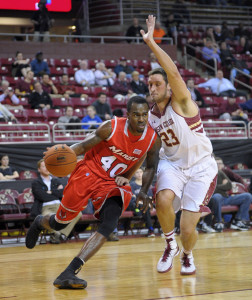 Courtesy of GoRedFoxes.com
POUGHKEEPSIE, New York – Chavaughn Lewis, the all-time leading scorer in the history of the Marist men's basketball program, will be playing professionally in Lithuania this season.
Lewis has signed with Juventus, which competes in the Lithuanian League and the Baltic League. 
Lewis played for the Red Foxes from 2011-15, and scored 2,119 points in his career. In his senior year, he finished 10th in the country in scoring and 13th in steals. Lewis participated in the Portsmouth Invitational this past April, and averaged 16.7 points in three games while shooting .548 from the field. In May, Lewis graduated from Marist with a bachelor's in Criminal Justice. 
Following graduation, Lewis worked out for the Toronto Raptors and Philadelphia 76ers. He then played for the 76ers in the Utah Jazz Summer League in early July. 
Including Lewis, four Marist men's basketball players who have graduated in the last two years have played professionally overseas:  Adam Kemp played last season in Macedonia, and will play in Kazakhstan this year. Kemp suited up for the Detroit Pistons in the NBA Summer League this past July. Jay Bowie played this past season in Australia. Bowie also spent time with the Delaware 87ers, the NBA D-League affiliate of the Philadelphia 76ers. Pieter Prinsloo played this past season in El Salvador. 
The Marist men's basketball team will begin its second season under head coach Mike Maker on Friday, Nov. 13, when the Red Foxes face Holy Cross at McCann Arena.
-GoRedFoxes.com-