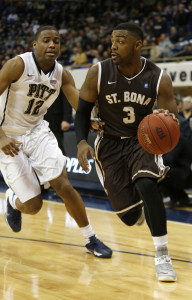 Courtesy of GoBonnies.com
NEWPORT NEWS, Va. – Eight games at the Reilly Center and four games on national television highlight St. Bonaventure's 2015-16 Atlantic 10 Conference men's basketball schedule, which was announced Thursday.
The 18-game schedule pits St. Bonaventure against Dayton, Duquesne, Massachusetts, Saint Louis and Saint Joseph's twice, with single games against Davidson, Fordham, George Mason, George Washington, La Salle, Rhode Island, Richmond and VCU. One of the Bonnies' home conference games will be played in Rochester at Blue Cross Arena; that contest will be announced at a later date.
Five of the Bonnies' nine home A-10 opponents advanced to postseason play last season. Dayton and Davidson made the NCAA Tournament, while George Washington, Rhode Island and Richmond played in the NIT. All five of those teams return the majority of their key players this season.
The home schedule starts off Jan. 2 with a visit from last year's regular season A-10 champion, Davidson. The game will be an 8 p.m. tipoff at the Reilly Center and will be the first of five times the Bonnies will play on American Sports Network.
St. Bonaventure will then play back-to-back road games, traveling to George Mason Jan. 6 and Massachusetts Jan. 9. The George Mason game will be on ASN while the UMass game will air nationally on CBS Sports Network.
The Bonnies will return to the Reilly Center to host Rhode Island, which will be one of the preseason A-10 favorites, on Jan. 13.
After a Jan. 16 visit to Duquesne, head coach Mark Schmidt's team returns to the Reilly Center to host Dayton Jan. 19. Both the Dayton and Duquesne games will be televised by ASN.
The week of Jan. 25 will be the Bonnies' bye week; they resume action on Sunday, Jan. 31, at home against Richmond at 1:00 on ASN.
February begins with a trip to Philadelphia for the first of the Bonnies' two meetings with Saint Joseph's on Feb. 3. Last season, the Bonnies swept the regular season series, then topped the Hawks in the A-10 Tournament.
Super Bowl Sunday, Feb. 7, St. Bonaventure returns to the Reilly Center to host Saint Louis at 2:00 on NBCSN.
Three out of the Bonnies' next four games will be on the road, starting Feb. 10 at Fordham. The lone home game in this stretch is against George Washington on Saturday, Feb. 13. Coach Mike Lonergan's Colonials are already being mentioned as a contender for the A-10 title. St. Bonaventure then plays at LaSalle Feb. 17 and at Dayton Feb. 20. The game at Dayton will be on NBCSN.
After that tough stretch, the Bonnies will have three consecutive home games starting with Duquesne Feb. 24. Massachusetts will visit the Reilly Center on Feb. 27, then Saint Joseph's on March 2.
The regular season finale sends the Bonnies west to Saint Louis on March 5.
The season will culminate with the A-10 Championship March 9-13 at the Barclays Center in Brooklyn, N.Y.  Every A-10 team will participate in the Championship.
The Bonnies return three starters from last year's 18-13 team: all-conference senior guard Marcus Posley, senior forward Dion Wright and sophomore point guard Jaylen Adams. Junior forward Denzel Gregg, sophomore guard Idris Taqqee and redshirt freshman forward Jordan Tyson also return. The Bonnies will have four newcomers: junior swingman Courtney Stockard, freshman guard Nelson Kaputo, freshman forwardLaDarien Griffin and freshman center Derrick Woods.
Season ticket renewals are now underway, and new season ticket sales will start Aug. 29. For information on purchasing season tickets, contact the St. Bonaventure ticket office at (716) 375-2500 or visit GoBonnies.com/tickets. Season tickets start at just $180. Single game tickets will go on sale Oct. 21.