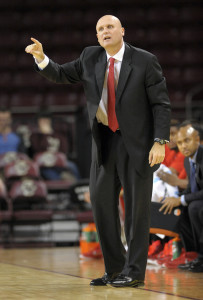 Courtesy of GoRedFoxes.com
POUGHKEEPSIE, NY – Marist head men's basketball coach Mike Maker has announced the additions David Knudsen and Kristinn Palsson. Both Knudsen and Palsson join the Red Foxes as freshmen for the 2015-16 season. 
David Knudsen – 6-4 / 190 – Guard – Copenhagen, Denmark / Falkonergardens 
Knudsen is a versatile talent who performed well playing for Vaerlose BBK in Denmark's top league last season. He averaged 13.4 points, 3.4 rebounds, 1.8 assists and 1.7 steals per game. 
Knudsen is a shooter who converted over 45 percent of his field goals, 35 percent of his three-pointers and 83 percent of his free throws. He is considered a balanced offensive player who is also tough defensively and competitive. 
Coach Maker on Knudsen: "David's toughness combined with his skill set provides us with plenty of options offensively and defensively. Most importantly, his competitiveness and maturity should allow him to make an early and meaningful contribution on and off the court." 
Kristinn Palsson – 6-6 / 200 – Guard – Reykanesbear, Iceland / Marymount
Palsson has size and versatility for his position, and has gained a wealth of international experience. This past season, he shined at the U-18 FIBA European Championships, as he averaged 18.2 points, 7.7 rebounds, 2.9 assists and 1.7 steals per game. 
Palsson also displayed good shooting ability. He converted over 43 percent of his field-goal attempts, shot over 46 percent on three-pointers, and knocked down over 79 percent of his free throws. Among all players at the championships, he ranked in the top five in free-throw percentage (third), three-pointers made (fourth) and points per game (fifth). 
Palsson was selected to play in this year's FIBA European U18 All-Star Game. 
Coach Maker on Palsson: "Kristinn is a complete player and gives us skill, savvy and versatility. The fact that he comes from a wonderful family and has had successful international basketball experience makes him an ideal fit for our college and program." 
With the addition of Knudsen and Palsson, Marist will have a full complement of 13 scholarship players on the roster for the 2015-16 season. R.J. Coil and Nick Colletta transferred from Marist following the conclusion of the Spring 2015 semester.
Marist is entering its second season under Maker's leadership in 2015-16. The Red Foxes will open the season onFriday, Nov. 13 with a non-conference game against Holy Cross at McCann Arena.
-GoRedFoxes.com-