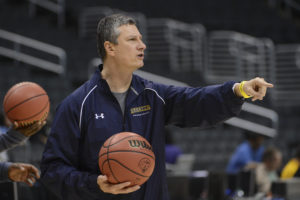 Courtesy of GoExplorers.com
PHILADELPHIA – Dusan Majstorovic (Novi Sad, Serbia / Lee Academy (Maine)), has been added to the La Salle men's basketball program, head coach Dr. John Giannini announced Monday.
"Dusan is a key addition to our team," Giannini said. "We felt we needed another scholarship player to play the way we want to. To recruit a legitimately talented, motivated, high-character player like Dusan at a late date was the best scenario we could have hoped for."
Majstorovic (6-5, 195) played last season at Lee Academy in Maine, the same school as recent La Salle graduate D.J. Peterson. He averaged 14 points and six rebounds which included a season-high 36 points against Bridgeton Academy.
"Dusan is known as an excellent offensive player who can shoot, pass and play smart," Giannini continued. "We will challenge him to also play defense at a high level and I know he will respond."
He was a member of the Under-16 Serbian Super League team, averaging 21 points per game to be named team MVP. Majstorovic was also a member of the U-16 Serbian national team.
La Salle opens its 2015-16 campaign on Saturday, November 14 versus Towson at 3 PM.