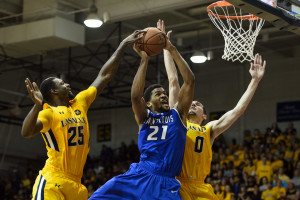 Courtesy of GoExplorers.com
PHILADELPHIA – Recent La Salle University graduates Jerrell Wright (Philadelphia, Pa. / Dobbins Tech) and Steve Zack (New Cumberland, Pa. / Red Land) have signed contracts to begin their professional basketball careers in Europe. Wright will play for the Gussing Knights in the Austria A-League while Zack has signed to compete for Liepaja in Latvia in the Baltic League.
"Jerrell and Steve will be strong assets to their professional teams," head coach Dr. John Giannini said. "As they did at La Salle, they will be productive players, great teammates and outstanding representatives. We couldn't be more proud of them."
Wright was a Second Team All-Big 5 selection for the second straight season. He finished second on the team in scoring (12.1 ppg.) and rebounding (6.5 rpg.) and led the Explorers in field goal shooting (.524) for the fourth straight season. He compiled 1,512 points and 841 rebounds in his four year tenure. The 841 rebounds rank eight on the Explorers' all-time list. Wright's .561 career shooting percentage is second in school history.
Zack finished his career seventh on La Salle's all-time rebound list with 843. He appeared in 123 games for the Explorers and ranks second all-time in blocked shots with 169. The New Cumberland, Pa. native was also named to the 2014 Atlantic 10 All-Defensive Team after leading the A-10 in rebounding [9.5 rpg] and ranking fifth in blocked shots [1.9 bpg].